Discover
And The Writer Is...with Ross Golan
Claim Ownership
And The Writer Is...with Ross Golan
Author: Big Deal Music // Mega House Music
Subscribed: 2,708
Played: 36,095
Description
Every week, we sit down with an acclaimed and venerable songwriter to intimately discuss what happens behind closed doors in the music industry. There are millions of singers, thousands of artists, and only 40 top songs per genre at a time... this podcast is about the people who make them. Produced by Joe London & Ross Golan in association with Big Deal Music & Mega House Music. And The Writer Is... ™
---
Hosted on Acast. See acast.com/privacy for more information.
With over 66 million album equivalents, and 55 million digital songs sold, not to mention over 110 billion combined streams, today guest is the singer of a GRAMMY® Award-winning, multi-Platinum rock band. The group developed a grassroots following with a series of independent EPs before making their major-label debut on KIDinaKORNER/Interscope with 2012's Continued Silence EP and full-length debut NIGHT VISIONS, which entered the Billboard 200 at No. 2, while lead track "Radioactive" topped Billboard's Hot Rock Songs, won a GRAMMY® for Best Rock Performance, and achieved RIAA Diamond status. After achieving their first #1 with "Radioactive," the band immediately repeated this feat with "Demons," marking the first back-to-back #1's for the band, with both songs in the Top 5 simultaneously. 2015's platinum selling Smoke + Mirrors debuted at No. 1 on the Billboard 200.The 3x platinum selling album EVOLVE followed in 2017, earning a GRAMMY® nomination for Best Pop Vocal Album and unleashing three No. 1 Alternative radio hits: "Believer," GRAMMY®-nominated "Thunder," and "Whatever It Takes." All three songs were also top 5 hits at Alternative radio. "Believer" was the quickest song to reach #1 for them. The band's fourth album and platinum selling, ORIGINS, debuted atop Billboard's Top Alternative Albums and Top Rock Albums charts, while its lead single "Natural" spent nine weeks at No. 1 at Alternative Radio. It was recently announced that their smash single "Thunder" received Diamond certification by the RIAA. With the certification of "Thunder," Imagine Dragons have notably become the first group in music history to achieve four Diamond singles. For their fifth studio album, the band teamed up with esteemed producer Rick Rubin. 2021's Mercury — Act 1 debuted in the Billboard 200 top 10. In 2022, they expanded the world of Mercury with a double album, Mercury – Acts 1 & 2, including the single "Bones," which has gathered over 380 million streams to date and the accompanying music video.And The Writer Is… Dan Reynolds of Imagine Dragons! Hosted on Acast. See acast.com/privacy for more information.
Today's guest is an English songwriter and record producer. He has won a number of awards, including an Academy Award, a Golden Globe Award, 3 Grammy Awards, and 2 Ivor Novello Awards. He is best known for his work with Sam Smith ("Unholy" "Stay with Me", "Writing's on the Wall", "Lay Me Down", "Too Good at Goodbyes", "Dancing with a Stranger"), Disclosure ("Latch", "You & Me", "White Noise", "Magnets"), Clean Bandit ("Rather Be")' Stormzy ("Crown") and Taylor Swift ("Christmas Tree Farm"). Our guest also has songwriting and producer credits with artists including Alicia Keys, Khalid, Normani, Kano, Dave, FKA Twigs, Ellie Goulding, Mary J. Blige, James Bay and more. And The Writer Is… Jimmy Napes! Hosted on Acast. See acast.com/privacy for more information.
Today's guest is Co-Chair and COO of Warner Chappell Music (WCM), the global publishing arm of Warner Music Group. She is at the forefront of a new generation of music executives at the intersections of creative and commercial, entertainment and technology. Known for being a champion of songwriters and their songs, her dynamic, innovative approach drives the development and promotion of music creators at all stages of their careers. Along with Warner Chappell's Co-Chair and CEO, Guy Moot, our guest oversees the company's global business, which includes a full spectrum of high-touch support services focused on creating transformational opportunities for its legendary roster of songwriters and rich catalog of songs. Since starting at WCM, she and Guy have built a culture of service and creative identity anchored in the company's shared values of curiosity, collaboration, and commitment.Prior to joining WCM in June 2018, she was one of three partners at the acclaimed independent music publisher SONGS. During her time at SONGS, the company built a roster of over 300 songwriters, signing Lorde, The Weeknd, Diplo, and many others. She has also held positions at Universal Music Publishing, DreamWorks Music Publishing, and Elektra Records. As one of the leading voices in the music industry, our guest has been named one of Billboard's "Women in Music: The Most Powerful Executives in the Industry" for the past seven years running as well as included in the publication's esteemed "Power 100" list in both 2019, 2020 and 2022. She was also recognized on Variety's Variety500, along with the publication's LA Women's Impact Report. She holds a BA degree in Communications from the University of Southern California. And The Executive Is… Carianne Marshall! Watercolor by: Michael Richey White Hosted on Acast. See acast.com/privacy for more information.
Today's guest is a multi-platinum songwriter behind 22 US Top 40 Hits including everything from Panic! At The Disco, One Direction, Fitz and the Tantrums, Weezer, Katy Perry, blink-182, Ringo Starr, Def Leppard, Carole King, Billy Idol, Jewel, Train, Tom Morello and Gym Class Heroes. He's been named one of Variety's Hitmakers as well as Rolling Stone's Producer of the Year and most recently held the #1 position on the Billboard Rock Songwriters Chart for nine weeks, a record. And The Writer Is… Sam Hollander! Watercolor by: Michael Richey White Hosted on Acast. See acast.com/privacy for more information.
From humble beginnings in the NYU dorms to working alongside some of the biggest stars of the last decade, today's producer duo guests sit at the center of music culture. They became friends during the first week of freshman year at NYU in 2011, bonding over music and genre collisions. They're musical omnivores who do their best to inhabit the world of the sound they're working on, from afrobeats to grime, latin trap to garage, country to pop. That appetite manifests itself in their work on Sheck Wes' 5x Platinum "Mo Bamba," on country star Kane Brown's recent genre-bending collaboration with R&B powerhouse H.E.R., "Blessed & Free,"and "Good in Bed" from Dua Lipa's Grammy-winning sophomore album Future Nostalgia. Their palette expands from there: alt-rock anthem "Hero" by Weezer, "High," a heartfelt ballad by Mark Ronson and Miley Cyrus, James Blake's gorgeous single "Life Is Not The Same," AJ Tracey and Mabel's UK hit "West 10," and nearly half of Kid Cudi's long-anticipated album Man on the Moon III:The Chosen, they have left their mark on nearly every genre. Outside of the US, collaborators include Colombian rapper Feid, who was nominated for a Latin Grammy for his album 19, and international stars like Flohio, Santi, and NSG.In 2020, Daytrip earned their first No. 1 single on the Billboard Hot 100 with the gothic Cudi and Travis Scott collaboration "THE SCOTTS," setting the stage for a prolific 2021. They executive produced multi-platinum star Lil Nas X's debut album, MONTERO, garnering the duo's second and third Billboard No. 1s singles with "MONTERO (Call Me By Your Name)" and "INDUSTRY BABY (feat. Jack Harlow)." The album's success is a reminder that they can't be boxed in. Moving seamlessly across styles and genres to achieve their career-long mission of creating freely and making music that connects with listeners worldwide. And The Writers Are… Denzel Baptiste and David Biral of TAKE A DAYTRIP! Hosted on Acast. See acast.com/privacy for more information.
Your weekly update with industry news and happenings from ATWI. Update for the week of October 10th, 2022. Hosted on Acast. See acast.com/privacy for more information.
Today's guests are a part of a globally celebrated, multi-platinum rock band and have cemented themselves as one of the most commercially viable and important acts of the past two decades. Their success includes worldwide sales of more than 50-million units, solidifying their status as one of the top-selling acts of all time and the second best-selling foreign act in the U.S., in the 2000's decade, behind only The Beatles. Their inescapable and irresistible smash "How You Remind Me" was named Billboard's 'Top Rock Song of the Decade'. It was the number-one most played song on U.S. radio (any format) in the 2000's decade according to Neilsen Soundscan, being spun over 1.2 million times. Their album All The Right Reasons was Diamond Certified (10-million copies sold) by the RIAA, in 2018, and has currently sold more than 13-million units in the U.S. and 19-million units worldwide. Amongst all these accolades, they've also been named Billboard's "Top Rock Group of the Decade", and they have received a staggering nine Grammy Award nominations, three American Music Awards, a World Music Award, a People's Choice Award, twelve JUNO Awards, seven MuchMusic Video Awards, and have been inducted into Canada's Walk of Fame (2007). With more than 23 chart-topping singles and fans spanning the globe, they boast twelve consecutive sold-out world tours, playing to well over 10-million diehard and adoring fans. And The Writers Are… Chad Kroeger and Ryan Peake of Nickelback! Watercolor by: Michael Richey White Hosted on Acast. See acast.com/privacy for more information.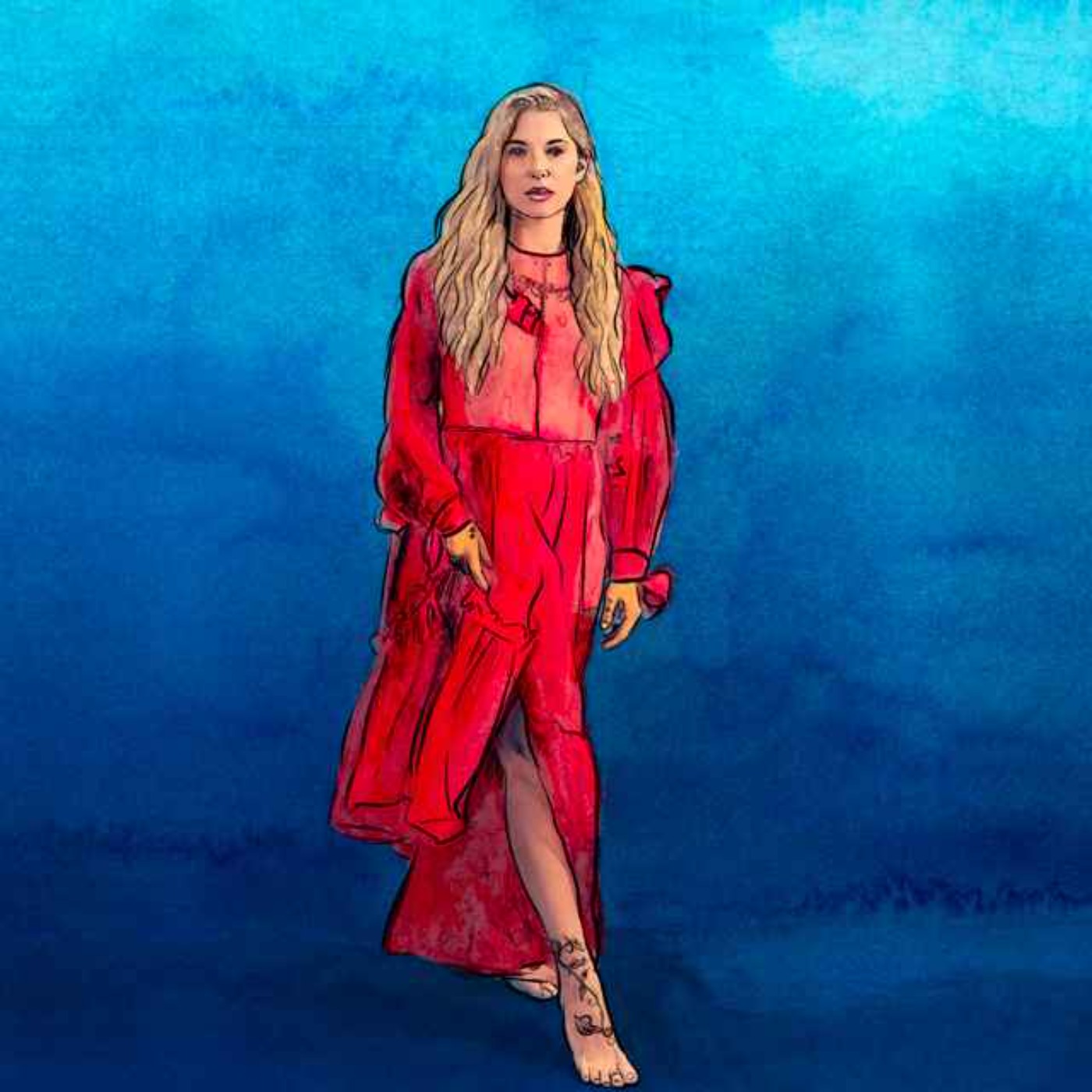 Today's guest is a multi-platinum singer-songwriter who has earned critical applause and an increasingly fervent fan following since the arrival of her extraordinary, platinum-certified, 2011 debut, lovestrong, which featured the 5x-platinum certified smash, "Jar of Hearts" and gold-certified "arms." She followed lovestrong. with the worldwide hit single, "A Thousand Years," exclusively featured on THE TWILIGHT SAGA: BREAKING DAWN – PART 1 & 2– ORIGINAL MOTION PICTURE SOUNDTRACKS. The RIAA diamond certified track was a multi-format radio favorite, and accompanied by an equally popular companion video, now boasting over 1.3 billion individual views via YouTube alone. HEAD OR HEART, her acclaimed gold-certified, second album, arrived in 2014, highlighted by the RIAA 2X platinum certified single, "Human." Our guest kicked off 2019 with songs for carmella: sing-a-longs and lullabies, a collection of songs the acclaimed singer-songwriter sang to her daughter everyday, released on Carmella's first birthday. She released the poignant single "Tiny Victories," a track she wrote for the HBO documentary FOSTER, which made its premiere in Spring 2019. Most recently, she released songs for rosie in honor of her daughter on what would have been her first birthday and most recently, her latest studio album, a lighter shade of blue, released this summer. And The Writer Is… Christina Perri!Watercolor by: Michael Richey White Hosted on Acast. See acast.com/privacy for more information.
Today's guest  is GRAMMY nominated songwriter, producer, and artist living in Nashville, TN. He is signed to a worldwide co-publishing deal with Tape Room Music (Nashville) and Artist Publishing Group (Los Angeles) as well as a record deal with BMG (Stoney Creek), and has written songs for artists such as Charlie Puth, Thomas Rhett, Kane Brown, Ava Max, Lee Brice, Meek Mill, Justin Timberlake, Lauren Alaina, Dierks Bentley, HARDY, Parmalee, Jake Owen, David Guetta, Bebe Rexha, and more. Originally from Meridian, Mississippi, he grew up surrounded by music. He is a classically trained pianist and cellist, and grew up performing everywhere from bluegrass festivals to orchestra concerts. From a young age, our guest has written and produced music with his two sisters in their country band Track45 (managed by Missi Gallimore and Gary Borman, and signed to BBR/Stoney Creek). His first major cut was "Patient" with multi-platinum pop artist Charlie Puth on the 2018 album "Voicenotes". Since then, he's had many cuts in both the pop and country worlds, as well as success as a producer. Johnson had his first #1 in 2020 with Lee Brice's "One of Them Girls", which stayed at the top of the charts for 3 weeks. He has gone on to write many more #1 songs including "Gone" (Dierks Bentley), "Take My Name" (Parmalee), "Best Thing Since Backroads" (Jake Owen), "Beers On Me" (Dierks Bentley, HARDY, Breland), "New Truck" (Dylan Scott), a Canadian country #1 with "11 Beers" (The Recklaws), and a 4 week Alternative Airplay #1 with Weezer's "All My Favorite Songs". In 2021, our guest broke into the top 10 on Music Row Magazine's Top Songwriter Chart and has been in the top 5 for the last 6 months. He won the 2021 AIMP Song of the Year award for "One of Them Girls" as well as the 2021 AIMP Publisher's Pick Award for HARDY's "Give Heaven Some Hell". Additionally, he was nominated for the 2021 Music. He made history in 2021 with the first song to ever win Country Song of the Year at all three PROs (BMI, ASCAP, and SESAC) with "One of Them Girls". In 2022, Johnson received his first GRAMMY nomination for "Rock Song of the Year" with Weezer's "All My Favorite Songs". And The Writer Is Live… with Ben Johnson! Hosted on Acast. See acast.com/privacy for more information.
Today's guest is an American songwriter / producer. He has released seven studio LP's that have garnered him a loyal following despite never being fully embraced by mainstream media and commercial radio. Describing his music is difficult, he's been inspired by artists such as John Lennon and Stevie Wonder to Bob Marley and Outkast. His compositions have been recorded by Carlos Santana, Dido and Richie Havens. In 20 years of touring, he has built a devout following, performing at sold out theaters and ballrooms across the country. Over time, our guest's music has become the soundtrack to the lives of those who have embraced it and he continues to inspire audiences through what can only be described as deep personal connection. And The Writer Is… Citizen Cope aka Clarence GreenwoodWatercolor by: Michael Richey White Hosted on Acast. See acast.com/privacy for more information.
Your weekly update with industry news and happenings from ATWI. Update for the week of August 15th, 2022. Hosted on Acast. See acast.com/privacy for more information.
Today's guest has enchanted an audience of millions as a singer, songwriter, actress, designer, producer and style icon. In her music, she has delivered one anthem after another on stage and in the studio, earning multiple gold certifications, and performing to sold out crowds far and wide.  On-screen, she has generated mega-fandom throughout television and film. She had her first leading role in the 2019 movie The Short History of the Long Road, which premiered at The Tribeca Film Festival with rave reviews and earned her the Jury Award for "Best Performance" at the 2019 SCAD Savannah Film Festival. Our guest also led the cast and executive produced Netflix's Work It which debuted at #1 on the platform upon its release in 2020. In the same year, she made her Broadway debut starring in Mean Girls. She then starred in Justin Baldoni's Warner Bros feature Clouds (Disney+). Her growing musical catalog encompasses gold singles— "Thumbs", "Sue Me" and "Why"—and the albums Singular: Act I & Singular: Act II. Of her music, Time Magazine wrote "she's one to watch" and V Magazine added "With two successful pop albums and a hard-hitting social commentary under her belt, Carpenter's career has matured faster than many of her Disney-bred predecessors." In addition to her growing list of acting and music credits, in 2020 she was selected for Forbes' prestigious "30 Under 30" list. She also co-stars in the recently released comedy thriller film Emergency (Amazon Prime), which premiered at Sundance Film Festival. Our guest recently signed to Island Records, where she released her newest smash hit singles "Skin," "Skinny Dipping," "Fast Times" and "Vicious." She just recently released her studio album, Emails I Can't Send, on July 15, 2022. And The Writer Is… Sabrina Carpenter! Hosted on Acast. See acast.com/privacy for more information.
Your weekly update with industry news and happenings from ATWI. Update for the week of August 1st, 2022. Hosted on Acast. See acast.com/privacy for more information.
Today's guest is a singer-songwriter born of Caribbean roots with records that have entertained masses for over 15 years and his momentum has yet to stop. His talents touch the core elements of a hit record; whether he's lighting up the stage as a performer or writing and producing your favorite top-charting hit. As a native of St. Thomas, VI; he first entered the music industry as one half of powerhouse duo R.City, alongside his brother. The road to becoming a world-renowned artist and songwriter isn't always as smooth as one may hope. The brothers arrived in the US with only $35 to their name, sleeping in studios and on the MARTA (Atlanta's public transportation); but their mindset remained ambitious. At 25yrs old, our guest and his brother Timothy signed their first deal with Akon propelling them into the next stage in their career, making hits. While signed to Akon, the Thomas brothers' catalog grew and the potential for producing #1 records became a reality. R.City penned Mario's "Music For Love", Sean Kingston "Take You There" and Pussycat Dolls "When I Grow Up"; as well as music for Janet Jackson, Chris Brown, Flo Rida, and Usher. Later R.City signed to RCA and Dr. Luke and this relationship led to popular songs that dominated radio by Ciara, Beyonce, Nikki Minaj, Rhianna, Miley Cyrus and many more. Now, after years of success he continues to produce grammy award-winning projects like Grammys 2020 Best Contemporary Album  "Cuz I Love You" by Lizzo, #1 Rhythmic Radio Hits like "Best Friend" by Saweetie & Doja Cat and "Big Energy" by Latto. 4x Grammy-winning songwriter and strategic businessman, our guest has merely scratched the surface of his capabilities. And The Writer Is… Theron Thomas from Rock City! Watercolor by: Michael Richey White Hosted on Acast. See acast.com/privacy for more information.
Today's guest is continuing her path to world domination, kicking off 2022 with a Best New Alternative Artist nomination for the iHeart Radio Music Awards. It's a well deserved nod after being the most played female artist on Alt Radio with "Serotonin." The song reached #2 and spent 30 weeks on the Alt chart, 21 of those weeks in the Top 10. "Serotonin" streams surpassed 84M for the track, with over 1.85 billion career streams to date. Her first headline tour since the release of her debut completely sold out the North American run and was a hot pick at the Coachella Music Festival this past April. Since our guest released her critically acclaimed debut album if i could make it go quiet last year, the album received world-wide critical acclaim from fans and critics alike and was revered by the likes of Taylor Swift, Camilla Cabello and more. It was included on "Best of 2021" lists from Rolling Stone, Billboard, Variety, NPR, Stereogum, NYLON, and more. In 2021, she also performed on The Tonight Show Starring Jimmy Fallon and Late Night With Seth Meyers, as well as TV performances worldwide on Skavlan, Late Night Berlin, and MTV's EMAs. And The Writer Is… Girl In Red!Watercolor by: Michael Richey White Hosted on Acast. See acast.com/privacy for more information.
Today's guest is one of country music's most renowned, talented and distinguished writers. From his early days of writing and drumming in Hattiesburg, Mississippi to being crowned Songwriter of the Century by ASCAP, he has indeed created for himself a monumental platform in the history of country music. As the writer of songs including Brooks and Dunn's "Believe" to Blake Shelton's "Boys 'Round Here" to Morgan Wallen's "Chasin' You", he has amassed over 350 cuts, 130 singles, and 29 #1's. After moving to Nashville in 1985 to pursue a career in songwriting, he received his first chart success after having co-written "The Only One" from Roy Orbison's album, Mystery Girl. In 1990, our guest signed his first publishing deal with Almo/Irving Music, and ten years later, he signed with BMG Music Publishing. In 2003, he opened his own publishing company, and within the first year of the independent company's operation, he experienced the first single of the catalog; "Live Like You Were Dying" by Tim McGraw not only peaked at the top of the charts for ten weeks, but it also was named NSAI Song of the Year, CMA Song of the Year, ACM Song of the Year and won the Grammy Award for Best Country Song. In 2012, our guest co-founded Big Loud's management division, the launchpad of Florida Georgia Line, followed by Big Loud Records in 2015. His success has continued to escalate at exponential levels throughout the years. He was proclaimed ASCAP's "Songwriter of the Year" in 2003, 2005, and 2007 in addition to being named "Writer of the Year" by NSAI and Music Row in 1997. In 2009, he received the impressive honor of NSAI's "Songwriter of the Decade" and won the 2014 Heritage Award from ASCAP as the most performed country songwriter of the century. Following those years of success, hard work & accomplishments, he was inducted into the Nashville Songwriters Hall of Fame in October of 2015. In 2017, he was honored with a CMA Triple Play Award for FGL's "Anything Goes" & Blake Shelton's "Gonna" & "Came Here To Forget.". For the past 18 years, Wiseman has hosted The Stars of Second Harvest Show at the Ryman, showing his philanthropic heart and giving all proceeds to the Second Harvest Food Bank Of Middle Tennessee. To date, this musical event has raised over $2 million for the food bank. And The Writer Is… Craig Wiseman!Watercolor by: Michael Richey White  Hosted on Acast. See acast.com/privacy for more information.
Your weekly update with industry news and happenings from ATWI. Update for the week of June 21st, 2022. Hosted on Acast. See acast.com/privacy for more information.
Today's guest is an American songwriter and record producer. He is best known for his work with Justin Bieber, Lil Nas X, Lizzo, The Kid Laroi, and Gracie Abrams. He has charted five songs in the Top 10 of the Billboard Hot 100, including The Kid Laroi and Justin Bieber's "Stay" and 24kGolden and iann dior's "Mood" which both charted at number one. Our guest was born and raised in Los Angeles, California and began playing guitar at 10 years old. After playing in bands and singing covers at venues around LA, he discovered what it meant to be a producer and became enamored with the career. At 16, he began an internship with producer Benny Blanco before moving to New York City to attend New York University. While attending NYU, he worked as a producer and songwriter with Gracie Abrams and Omar Apollo, executive producing both their debut projects. After dropping out of NYU to return to Los Angeles, he began working full time on music. During the pandemic in 2020, he met and began working with longtime collaborators The Kid Laroi, Lil Nas X, Omer Fedi, and 24k Golden. In October of that year, he got his first Billboard Hot 100 #1 song with "Mood" ft. Iann Dior, which topped the chart for 8 weeks. Later that year he produced The Kid Laroi's breakout hit "Without You" and in July of 2021 produced "Stay," a fast-paced pop rap, pop rock, and synth-pop song, which peaked at number one on the Billboard Hot 100 for 7 weeks, later becoming the 2nd longest running song in the top 10 of all time and spent the most weeks at #1 in pop radio history. He earned a nomination at the 64th Annual GRAMMY Awards for Album of the Year for Lil Nax X's 'Montero,' which Slatkin worked on as a producer and songwriter, working on "That's What I Want". Our guest was named to Variety's Hitmakers of the Year in 2021 and to Forbes' 30 Under 30 List in 2022. He was an honoree for Pop Song of the Year at the 2022 BMI Pop Awards for "Mood" and was nominated for Producer of the Year at the 2022 iHeartRadio Music Awards! And The Writer Is… Blake Slatkin!Watercolor by: Michael Richey White Hosted on Acast. See acast.com/privacy for more information.
Your weekly update with industry news and happenings from ATWI. Update for the week of June 6th, 2022. Hosted on Acast. See acast.com/privacy for more information.
Today's guest is a lifelong advocate for empowering creators and the Founder and Executive Chairman of Downtown Music Holdings. Since its start in 2007, Downtown has become the leading service provider to the global music business by driving equity and innovation across the industry. As Executive Chairman, he leads Downtown's Board of Directors, drives strategic development and works with the executive team on transformational growth opportunities for the organization. Today, Downtown manages more than 23 million music assets on behalf of over one million artists and enterprise clients hailing from 145 countries from a catalog that spans 100 years of popular music, including music for film and television, and the single largest independent sound recording catalog in the industry. The company's diverse client base features some of the biggest brands in music and entertainment, including iconic songwriters, composers and recording artists, major film and television production studios, gaming companies, the world's largest music companies, music asset owners and other music service providers. Over the course of his career, our guest has received numerous esteemed recognitions, including Variety's New Leaders, Billboard's Power 100, Crain's New York "40 Under 40," and is a recipient of the Association of Independent Music Publishers (AIMP) Indie Award. He serves as Vice President of the Board of Directors for the National Music Publishers Association (NMPA), and is co-founder of NY is Music, a non-profit coalition dedicated to advancing the importance of the role of music in economic development, culture, and education in New York State. And The Executive Is… Justin Kalifowitz! Watercolor by: Michael Richey White  Hosted on Acast. See acast.com/privacy for more information.
United States