Discover
Fixable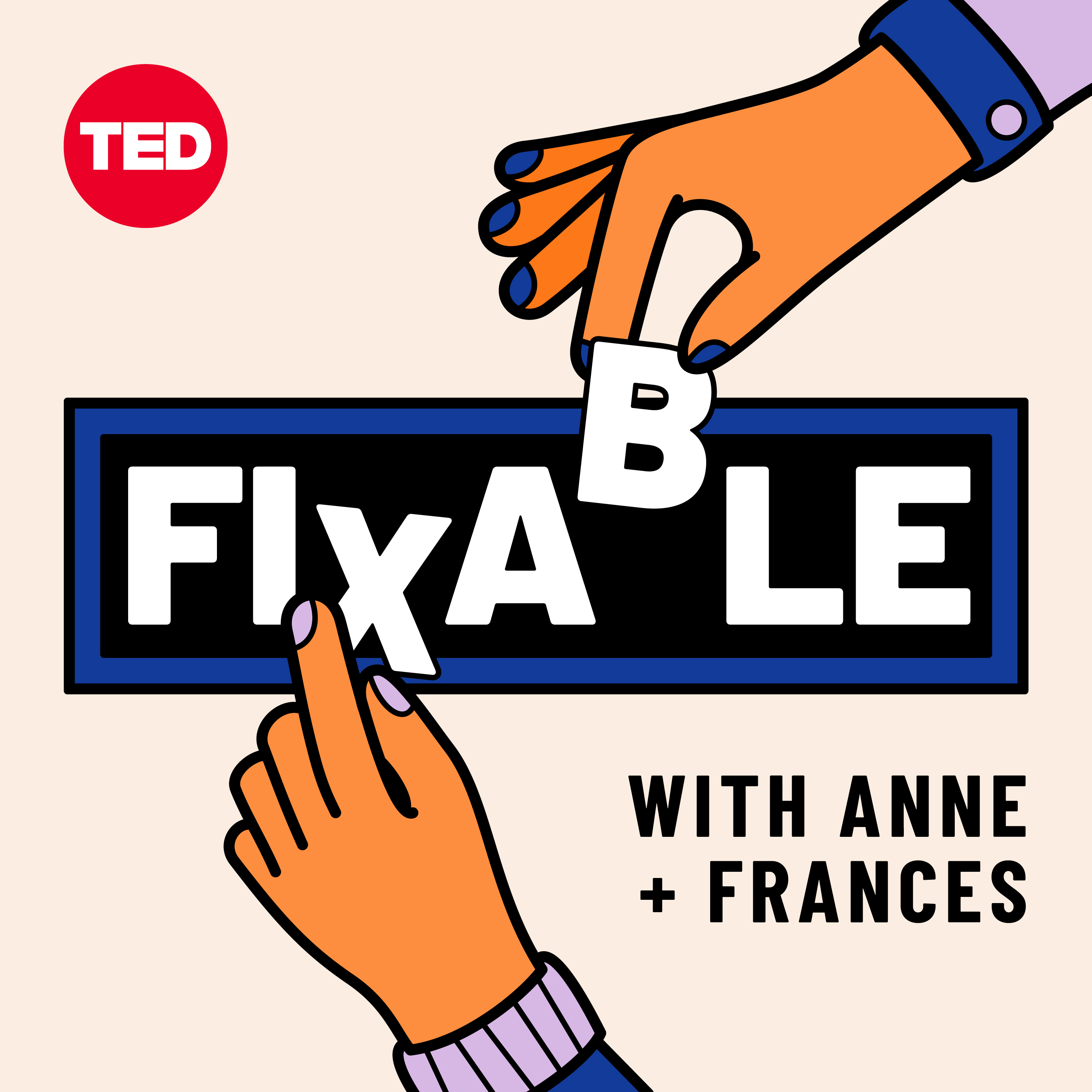 Author: TED
Subscribed: 55,606
Played: 92,722
Description
Frances Frei is a Harvard Business professor. Anne Morriss is a CEO and best-selling author. Anne and Frances are two of the top leadership coaches in the world. Oh, did we mention they're also married to each other? Together, Anne and Frances move fast and fix stuff by talking to guest callers about their workplace issues and solving their problems – in 30 minutes or less. Both listeners and guests will receive actionable insights to create meaningful change in the workplace – regardless of their position on the company ladder. If you want to be on Fixable, call our hotline at 234-Fixable (that's 234-349-2253) to leave Anne and Frances a voicemail with your workplace problem.
How can you make sure everyone on your team is on the same page? That's the question posed by this episode's caller, Luís Martín. Luís is the founder and CEO of an early stage startup, and he's noticed some tension between his older employees and their Gen Z colleagues due to their different work styles. With the help of Anne and Frances, Luís gets to the root of the problem: when a company lacks focus, it's hard for the employees to be aligned. Together, they create a roadmap to bring the company together on projects with a singular, united goal. Transcripts for Fixable are available at go.ted.com/fixablescripts.
As a standup comedian and the host of the TED podcast How to Be a Better Human, Chris Duffy knows how to be engaging in front of a microphone. However, he feels awkward about posting on social media yet worries that not posting is costing him opportunities and a bigger audience. It's a problem that Anne and Frances have faced too. Together, they talk about the art and mindset of self-promotion and the ways YOU can rethink your online presence so it feels more aligned with what you stand for. Transcripts for Fixable are available at go.ted.com/fixablescripts.
What's the best way to transition back to work after going on leave? Wren is a newly minted director at a fintech company who got promoted into the role just a few months before going on maternity leave–and now she's returning as the mom of a child with health challenges. However, her job and team have changed dramatically in her absence, and Wren doesn't feel like the same person she was before her baby, either. Not knowing how to go into the office again, Wren turns to Anne and Frances for help. Anne and Frances give Wren a bombshell—she's not going back to her old job, she's starting a new one. Together, they create a plan for a successful restart and making the most of any transition. Transcripts for Fixable are available at go.ted.com/fixablescripts.
There are unhelpful managers, and then there are ones who make you actively question your own skills. Rachel is a mid-level employee facing one big obstacle at work: a boss who refuses to hear her thoughts. The repeated stonewalling has made Rachel question her ability to do her job, and she turns to Anne and Frances for help. Together, they help Rachel unlock her inner fierceness and give her tips that can help anyone confront a dismissive boss. Transcripts for Fixable are available at go.ted.com/fixablescripts.
Remote work is here to stay — but even for companies that did it pre-pandemic, new challenges are popping up. Dean's accounting firm has 4,000 employees, and people once happily alternated between working from home and the office. But recently there's been a shift, and the once-thriving hybrid environment is not quite as bustling. Afraid of losing the supportive and social in-office culture, Dean turns to Anne and Frances for help. Together, they find a balance between remote flexibility and in-person interaction. Anne and Frances also share tips on making office days not only productive but exciting for everyone who joins. Transcripts for Fixable are available at go.ted.com/fixablescripts.
Welcome back to Fixable. This one's a little different! This week, Anne and Frances dive into their area of expertise: trust. Frances recounts the time when she was brought in to help Uber fix their huge trust breakdown. Using Uber as a case study, they explain the three pillars of trust – authenticity, empathy, and logic – and actionable solutions to strengthen each leg when they're on shaky ground. Transcripts for Fixable are available at go.ted.com/fixablescripts.
Fixable will be back next week! For now, here's an episode of TED Talks Daily we think you'll like. Every weekday, TED Talks Daily brings you the latest TED talks on every subject imaginable — from Artificial Intelligence to Zoology, and everything in between — given by the world's leading thinkers and creators. In this practical, playful talk, leadership visionary Anne Morriss reinvents the playbook for how to lead through change -- with a radical, one-week plan to build trust and fix problems by following a step per day. Follow TED Talks Daily wherever you're listening to this.
Reshma is the co-founder of Girls Who Code, and she's embarking on a second time founder journey now with her new organization Moms First. And she says being a second time founder is, in some ways, even harder than going at it completely green. So her question is, how do you reconnect to motivation for a project you love and feel passionate about – but which (for mostly external reasons) is maybe not organically as energizing as previous projects?
For some of us it's easy to lose ourselves in our work. But a lack of boundaries between your personal and work life is something mental wellness educator Gloria Chan Packer would warn you twice about. Gloria speaks about the perils of gaining your sense of self-worth from your job, discusses her experience with burnout and stress and shares empowering insights on how to shift our perspectives to create – and maintain – a healthy distance. For the full text transcript, visit go.ted.com/BHTranscripts. This is an episode of How to Be a Better Human, another podcast from the TED Audio Collective. Find more How to Be a Better Human wherever you're listening to this.
Marcella Arguello is a walking business. As a comedian, she's tasked with being her own marketer, manager, and more — on top of actually performing. However, she's found that the unfiltered honesty that captivates an audience often gets her in trouble in business meetings. Needing help to manage these conflicting expectations, she turns to Anne and Frances for help. Together, they design a strategy for Marcella to be her most authentic self without compromising her career. Transcripts for Fixable are available at go.ted.com/fixablescripts.
Lynn works in HR and leads DEI efforts for a multinational company. She's seen leadership get excited about the idea of inclusion only to retreat at their first blunder. Now, she asks Anne and Frances for help on charging ahead. Together, they dig into the anxieties that prevent action from being taken — and create a plan to make DEI a real priority. Transcripts for Fixable are available at go.ted.com/fixablescripts.
Lola Bakare is an author, marketer and advisor who was recently named one of LinkedIn's Top Voices in Marketing – unsurprisingly, she has a ton of projects on her plate. But recently Lola has been struggling with balancing her most energizing and creative endeavors with the, well, boring tasks that keep a business running. Anne and Frances dig into the things that stop Lola – and many of us – from creating space for our passions and suggest ways to reclaim the time needed for our most invigorating work. Transcripts for Fixable are available at go.ted.com/fixablescripts.
Jai is an ethics and compliance officer at his company, working to make sure the business' actions align with their values. However, he often feels pressure from management to let things slide. Jai turns to Anne and Frances for help and they give him a surprising remedy: approach conversations with more understanding. And Frances learns something new too, as they outline Jai's strategy to help him communicate more effectively to upper management. Transcripts for Fixable are available at go.ted.com/fixablescripts.
Delaney left a fulfilling teaching career to join the tech industry. But after a round of layoffs left her the sole remaining member of her team, she's stopped feeling motivated and wants to start carving out time to pursue the artistic projects that actually inspire her. Needing to feel both invigorated and financially secure, Delaney turns to Anne and Frances for advice. Through a challenging conversation, they map a plan for Delaney to leave every workday energized and ready to chase her passions. Transcripts for Fixable are available at go.ted.com/fixablescripts.
When Carl started working at a green-energy company, there were 50 employees. Now, Carl is in management and the company has ballooned to 400 employees. Recently, he's noticed that some of the new hires don't want to engage with the company's inclusive culture, and that's creating friction. With the help of Anne and Frances, Carl discovers that the problem isn't about a few toxic employees — it's the culture of conflict aversion at the company. Transcripts for Fixable are available at go.ted.com/fixablescripts.
Anne and Frances are joined by their first "Master Fixer," author Claire Hughes Johnson, who's here to help you fix your meetings! Her book Scaling People: Tactics for Management and Company Building draws on her executive experiences at Stripe and Google and reveals her techniques for getting the most out of the people she's leading – especially while they're gathered together. In this episode, Claire shares her recipe for better meetings, including how to make them more inclusive, why it's crucial to delegate tasks, and how to make space for dissent.
Nai'a is a product operations manager at an education technology company that has gone through a major restructuring. With a shifting team and a brand new manager, she struggles to make sure her colleagues recognize the value of her work and what she needs to continue achieving success in her role. Anne and Frances help Nai'a reframe her mindset to be around approaching the situation with curiosity rather than judgment, effectively communicating her needs, and seeing her manager as a collaborator.
David and his brother have co-founded a non-profit helping Black youth in Miami… but David still has a full-time job. Wanting to turn his passion project into paid, full-time work, David asks Anne and Frances how he can grow his organization without losing his energy. After, Anne and Frances share strategies for fundraising and approaching non-profit work like an entrepreneur.
Teresa is the head of strategy at a small food startup, and she's having trouble balancing her desire to think things through with the fast-paced decision-making her role requires. After she shares stories of the collateral damage from the startup's quick choices, Anne and Frances help Teresa reframe her concerns and discuss how the problem isn't necessarily about speed, but trust.
Kelli is a nurse at a leading teaching hospital where communication issues are not only leading to resentment – they could also be affecting patient care. After hearing from Kelli about the larger problems at play in the healthcare space, Anne and Frances discuss the link between communication and transparency and guide Kelli into taking matters into her own hands.
United States