Discover
Just Ingredients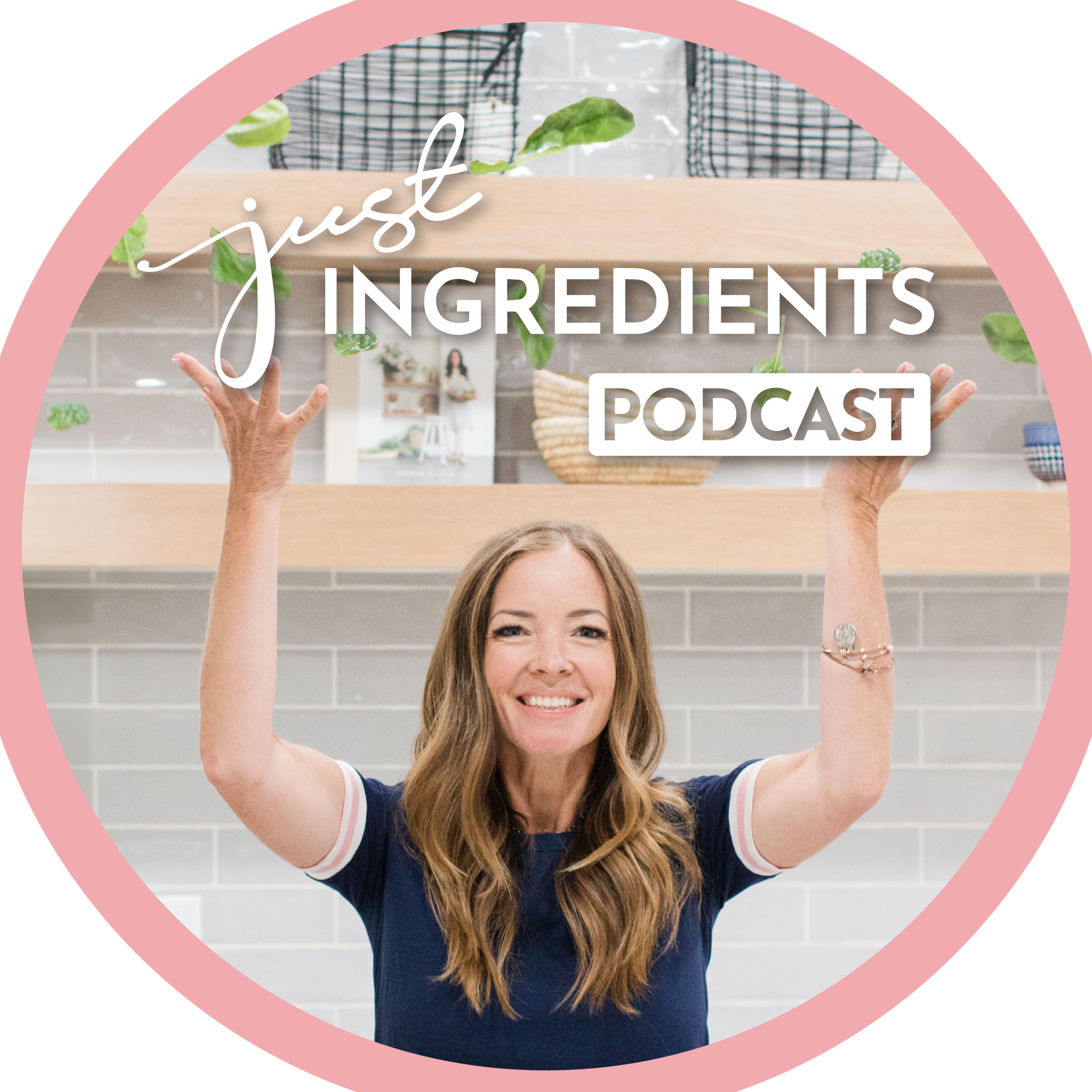 Claim Ownership
Author: Just Ingredients
Subscribed: 2,054
Played: 54,489
© All rights reserved
Description
The Just Ingredients Podcast, a place to find all the best ingredients for life. Karalynne Call, creator and owner of the popular Instagram account and product line Just Ingredients, talks about all things nourishing for the mind, body, and soul. Karalynne believes that nature provides the necessary nutrition in order for people to live healthy, happy lives full of energy and inspires others to make a change in their eating habits and daily product use. With the help of her guests, Karalynne shares tips and tricks, how-to's, and why's behind choosing better, whole, non-toxic ingredients for your family and healing your body and mind from within.
At the age of 15 Trent first "dipped his toes" in the water industry, then opened his first water treatment business at age 27. Then in 2017 he founded an impactful water research firm calling it ĒNĒVIVE which means: "The Original Life". Now after being fully immersed in the world of water for over 39 years he's earned himself the nickname of "The AQUAMAN" with the superpower of being able to transform water back into its "Original Life". "I've created a UNIQUE RESEARCH PROCESS", says Trent Spafford, "that studies the many harmful toxins found in our local tap water supplies which can increase the rates of birth defects, miscarriages, hormonal disturbances, infertility, neurological brain disorders and many forms of cancer. The compound effects of these gangs of pollutants cannot be overstated." His knowledge and understanding of almost every aspect of water is unique and enlightening. He and his research firm ĒNĒVIVE reconnects people back to the earth, grounding them to the truths of what's in their tap water, and puts people back into a positive relationship with the most powerful conductor in the universe- WATER! That's what "The Original Life" is all about; that's ĒNĒVIVE! In today's episode, Trent and I discuss all things related to water. Our conversion revolves around the importance of clean water, how it impacts our health, and the benefits of using a filtration system. Tune in now to gain insight into the world of water filtration and its impact on health and wellbeing. Trent's Instagram Page: https://www.instagram.com/enevivewater/?igshid=MzRlODBiNWFlZA%3D%3D Trent's Facebook Page: https://www.facebook.com/ENEVIVE?mibextid=LQQJ4d Trent's Website: https://www.enevive.com/ Fluoride in Water Website: https://fluoridealert.org/ Trent's Fluoride Petition: https://www.change.org/p/residents-of-utah-end-fluoridation-in-utah-s-tap-water For 10% off your order at Magnesium Breakthrough Use Code JUSTINGREDIENTS10 at http://magbreakthrough.com/justingredients
Dr. Michelle Jorgensen is an internationally acclaimed author, speaker, teacher, biologic/holistic dentist and health and wellness provider. She is the author of Healthy Mouth, Healthy You; Holistic Dental Guide and Be Prepared, Not Scared, 12 Steps to Emergency Preparedness. After practicing traditional dentistry for 10 years, Dr. Jorgensen became very sick. Through her own journey to return to health, she discovered she had mercury poisoning from drilling out mercury fillings for her patients. She was concerned that there may be other health-threatening materials or procedures in dentistry, and this concern led her to the Biologic/Holistic Dentistry Field. For the last 10 years she has been paving the way in Biologic/Holistic dentistry, learning from pioneers all over the world. She has created the Total Care Dental and Wellness Way, a patient CARE centric, health focused method for treating dental and overall health. Patients from around the world seek out her care and come to Total Care Dental and Wellness to have their health restored. She is also the founder of Living Well with Dr. Michelle, a local and global outreach to teach the habits and the behaviors necessary to really live well in today's world. Everything from simple, healthy meal planning for busy families to Nature's Medicine cabinet are included. In today's episode, Dr. Michelle Jorgensen and I discuss how the mouth is a window to our health. She teaches about what cavities are and what they mean. We learn about mouthwash, what to look for and what to avoid. She also teaches us all about hydroxyapatite, what it is, where it comes from and why it's important. Dr. Michelle's Instagram Page: https://www.instagram.com/livingwellwithdrmichelle/ Dr. Michelle's Websites: https://livingwellwithdrmichelle.com/ https://www.totalcaredental.com/ Dr. Michelle's Youtube: https://www.youtube.com/c/LivingwellwithDrMichelle Where to find a dentist: My Living Well Dental Directory IABDM.org IAOMT.org For 15% off your order at Fontana Candles Use Code JIPODCAST at https://fontanacandlecompany.com/
Dr Redd is a research biologist, a graduate of naturopathic medical school and owns 8 clinics that focus on helping patients from around the world with autoimmune and inflammatory conditions called RedRiver Health and Wellness. His clinics see hundreds of patients a day from around the world. He has 12 years of post graduate school ranging from nutrition, alternative health care and public health biology at Johns Hopkins. He is starting his stem cell and regenerative medicine residency and will soon be opening a regenerative medicine clinic. In today's episode, Dr. Josh Redd and I discuss all about brain inflammation and how it affects kids' health. We dive into how kids diet and lifestyle choices are the main factor for their health issues. We talk about how blood sugar imbalances and gluten can affect kids' mood. Dr. Redd's Instagram Page: https://www.instagram.com/drjoshredd/?hl=en Dr. Redd's Youtube Page: https://www.youtube.com/@drjoshredd Dr. Redd's Website: https://drjoshredd.com/ RedRiver Health & Wellness Website: https://www.redriverhealthandwellness.com/ For 10% off you order at Mett Naturals Use Code JUSTINGREDIENTS at https://mettnaturals.com/
Benjamin Bikman earned his Ph.D. in Bioenergetics and was a postdoctoral fellow with the Duke-National University of Singapore in metabolic disorders. Currently, his professional focus as a scientist and professor (Brigham Young University) is to better understand the role of elevated insulin in regulating obesity and diabetes, including the relevance of ketones in mitochondrial function. In today's episode, Dr. Bikman teaches about insulin resistance, including its role in weight gain, diabetes, stress, hormone imbalances, PCOS, and inflammation. He goes into detail about how insulin resistance affects the body, how it is diagnosed, and how one can begin to heal from it. Over 88% of people suffer from insulin resistance, and so it is a topic we need to be educated on. As mentioned in the podcast, 110 cm is 43.3 inches (when talking about a man's waist in determining whether they have insulin resistance). Follow Benjamin Bikman at: Instagram: @benbikmanphd Twitter: @benbikmanphd For 25% off Kettle and Fire: Use code JUSTINGREDIENTS at checkout at kettleandfire.com
Dr. Harry Adelson, N.D. was one of the earliest adopters of the use of stem cells for the treatment of chronic musculoskeletal pain. He began his training in regenerative injection therapy (prolotherapy) in 1998 while in his final year at The National College of Naturopathic Medicine, in Portland, Oregon. During his residency program in Integrative Medicine at the Yale/Griffin Hospital in Derby, Connecticut, he volunteered after hours in a large homeless shelter in Bridgeport, Connecticut, providing regenerative injection therapies to the medically underserved while gaining valuable experience. He opened Docere Clinics in 2002 and from day one, his practice has been 100% regenerative injection therapies (100% stem cell therapy since 2010) for the treatment of musculoskeletal pain conditions. He has performed over 7,000 stem cell procedures and has injected stem cells into over 2,000 intervertebral discs, placing him solidly among those most experienced in the world with use of stem cells for the treatment of spine pain. His client list includes Dave Asprey, Mark Hyman MD, Ben Greenfield, John Grey PhD, Jim Kwik, and Vishen Lakhiani (names shared with permission). In 2020, he was the proud recipient of the "Above all, patients first" Award from the Cell Surgical Network. He is the inventor of the Full-Body Stem Cell Makeover®, and is the founder of Docere Clinics, located in beautiful Park City, Utah where he lives with his wife and two daughters. In today's episode, Dr. Harry Adelson and I discuss all things related to stem cells. He teaches us the basics of stem cell therapy and how it plays a role in healing our body naturally from injury. He also teaches us about birth tissue stem cells, what the full body stem cell makeover is and how it can prevent injury. Dr. Adelson's Instagram Page: https://www.instagram.com/harry.adelson/ Dr. Adelson's Website: https://www.docereclinics.com/ Dr. Adelson's Youtube: https://www.youtube.com/@chezharry68 Starting at 9am MST on June 8, get 10% off all new products at https://justingredients.us/ Sale ends at 11:59pm MST on June 9.
Dr. Calvin Ng is Natural Health Care Practitioner, in Orange County, CA, who treats the body as a whole using Chiropractic Medicine, Applied Kinesiology, Functional Medicine, Chinese Medicine, Neuro Emotional Technique, Quantum Neurology, and Craniopathy. He believes that all health dysfunctions and diseases have an underlying imbalance physically, biochemically, and emotionally and by treating the root causes, the body will heal itself. His comprehensive approach helps restore normal physiology, strengthens the body, and allows the systems of the body to function in harmony. His mission is to educate others about the endless possibilities of holistic healing, inspire people to live life to their fullest potential, and elevate the well-being of humanity. In today's episode, Dr. Calvin Ng and I discuss the difference between chiropractic medicine and just going to a chiropractor. He teaches about the many different types of chiropractic medicine and how not all chiropractors are the same. He teaches us what applied kinesiology and muscle testing is and how it can help many health conditions like sleep, anxiety, and allergies. Dr, Calvin's Instagram Page: https://www.instagram.com/drcalvinng/ Dr. Calvin's Website: drcalvinng.com Other Websites: netmindbody.com, icakusa.com
Sara-Chana Silverstein is the author of the book MOODTOPIA: Tame your moods, de-stress, and find balance using herbal remedies. She is a Master Herbalist RH (AHG), Classical Homeopath, Board-certified lactation consultant (IBCLC), businesswoman, wife, keynote speaker and mother of seven children. She is regularly featured on TV new shows across the US discussing how people can integrate alternative medicine with conventional medicine. She is a consultant to many pediatricians, obstetricians, midwives, general doctors and guest lectures to residents at medical schools. After working with over 235,000 clients for the past 20 years she saw that most people needed help with their moodiness and created a program that teaches people how to: "BE IN CONTROL OF YOUR MOODS, SO THEY DON'T CONTROL YOU!" In today's episode, Sara-Chana Silverstein and I discuss how to make your own natural summer first aid kit. She teaches us about many different types of herbs and natural remedies that help with bug bites, sunburns, cuts and scrapes, and bumps. Sara-Chana's Instagram Page: https://www.instagram.com/sarachanas/ Sara-Chana's Website: https://sarachana.com/ Starting at 9am MST on May 25, buy one mouthwash, get a mint breath spray for FREE at https://justingredients.us/. Sale ends at 11:59pm MST on May 26.
Peter is a pioneer in direct to consumer marketing and has sold over $3 billion of innovative products that provide real solutions to real consumer problems. His products have been so successful that they have also been best sellers at major retailers including Walmart, Target, Bed Bath and Beyond and Costco, making them accessible to everyone. In 2007, Peter decided to put his energy and resources exclusively towards manufacturing and selling products that positively impact the health and quality of life of his customers. On that principle, he started Ideal Living with his Co-CEO, Kathleen Williams, an ethical and socially responsible company with the mission to ensure everyone has access to affordable clean air and pure water, and a solid foundation to wellness. Ideal Living brands include Air Doctor air purifiers, AquaTru patented water purifiers and AromaTru, a waterless aromatherapy diffuser. Ideal Living brands are sold in the US and Canada through a vast network of dedicated Health Experts, Influencers & Affiliate Partners and on Amazon. They are also sold through distributors in the EU, UK and India. Peter received a degree in Human Development from the State University of New York. His interest in health and wellness began early when as part of his undergraduate studies he spent time working on an organic farm in the foothills of the Smoky Mountains, studying traditional Chinese medicine and acupuncture in London and teaching meditation around the world. A person of great curiosity, he embarked on these studies long before they were in vogue. By integrating his solid foundation and passion for the wellness category with his extensive marketing skills, Peter is now able to pursue his mission of improving the health and quality of life of his customers. In today's episode, Peter Spiegel and I discuss all about the toxins in the air and in our home. He teaches us what VOC, phthalates, and formaldehyde's are and how toxic they can be for you and your body. He talks to us about your hvac system in your home and how beneficial the AirDoctor is. AirDoctor Instagram Page: https://www.instagram.com/airdoctorpro/ Get $280 off an AirDoctor at: https://www.airdoctorpro.com/?src=affiliate&aid=61546 For 10% off and free shipping at BIOptimizers Use Code JUSTINGREDIENTS at https://magbreakthrough.com/vip?v=5&gl=63d160653f5d60d86b8b4569&coupon=justingredients10&pi=karalynne
Phil Cowley, also known as - @philsmypharmacist to his 1.7+ million followers on TikTok and Instagram, has over 20 years of experience in pharmacy, and he owns and runs Cache Valley Pharmacy in Logan, Utah. He is passionate about educating people on how to make informed decisions about their health and wellbeing. He is known for his ability to make even the most complex medical information accessible and entertaining. Phil's videos on TikTok and Instagram cover a wide range of topics, from OTC Hacks to common health concerns and healthy living. He's making pharmacists cool again! In today's episode, Phil Cowley and I discuss all things to help you get ready for the summer months. He teaches us what the difference is between sunscreen and sunblock and what ingredients to look for. He teaches us what spf is, what it means, and the difference between them all. We also discuss what melasma is and how excess estrogen plays a role. Phil's Instagram: https://www.instagram.com/philsmypharmacist/?hl=en Phil's Youtube: https://www.youtube.com/channel/UCVw3U_bOFLqedu4wvrSuNQg Phil's TikTok: https://www.tiktok.com/@philsmypharmacist Phil's Amazon Storefront: https://www.amazon.com/shop/philsmypharmacist For 15% off your order at Coconu Use Code KARALYNNE15 at https://coconu.com/
Andrew Kimbrell is the founder and Executive Director of Center for Food Safety, a law, policy, and advocacy non-profit organization that protects people and the planet from the harmful impacts of industrial agriculture and advances the transition to an organic, regenerative food system. Through his leadership at CFS, Kimbrell has been at the forefront of legal challenges to genetically engineered crops, lawsuits forcing FDA to adopt new food safety regulations, and most recently a landmark case forcing the EPA to overturn their decision that glyphosate is safe for humans and imperiled wildlife. His legal work has also helped maintain the integrity of organic standards. As an author and public speaker, Kimbrell has been a leading proponent of regenerative forms of agriculture and organic policies for over 30 years. He is the editor of the nationally renowned book Fatal Harvest, The Tragedy of Industrial Agriculture and the author of Your Right to Know: Genetic Engineering and the Secret Changes in Your Food. In today's episode, Andrew Kimbrell and I discuss all about glyphosate and other harmful toxins. He teaches us about how glyphosate has changed over time and how it affects our health and causes cancer. He dives into what organic means when it comes to labeling foods in the store. He teaches us about how The Center for Food Safety is passionate about protecting the integrity of organic. CFS Instagram Page: https://www.instagram.com/centerforfoodsafety/ CFS TikTok Page: https://www.tiktok.com/@centerforfoodsafety CFS Facebook Page: https://www.facebook.com/centerforfoodsafety CFS Website: https://www.centerforfoodsafety.org/ For 10% off every month, start your subscription today @justingredients.us
Dr. Christian Gonzalez, aka Dr. G, is the host of the top 40 health show Heal Thy Self, Co-Founder of The Swell Score marketplace, and leader in emotional/ trauma healing. He completed his Doctorate of Naturopathic Medicine at the University of Bridgeport College of Naturopathic Medicine in 2014. He is a leading and trusted voice in all things holistic health and has been featured in countless media outlets, including MSN, the LA Times, Shape, and more. In today's episode, Dr. G and I discuss all about our emotions and how they play a major role in our health and relationships. He teaches us what fascia is, and how our emotions manifest differently but connect throughout the body. He teaches us about how our true voice is our most important peace for our healing and how to connect to our body. Dr. G Instagram Page: https://www.instagram.com/doctor.gonzalez/ ELM Health Instagram Page: https://www.instagram.com/elm.health/ Heal Thy Self Instagram Page: https://www.instagram.com/healthyself.drg/ Dr. G Website: https://docgonzalez.com/ ELM Health Website: https://www.elm.health/ Heal Thy Self Podcast: https://docgonzalez.com/podcast/ Heal Thy Self Youtube: https://www.youtube.com/@HealThySelf_DrG For 15% off your first order at Ilia Beauty Use Code JUSTINGREDIENTS at www.iliabeauty.com
Dr. Shane Watt, a Chiropractor, and Liz Watt, a holistic wellness expert, have been married for over 30 years and are the proud parents of 6 children. Through first-hand experience with family, patients, and clients, they have seen many natural possibilities for obtaining health in one's life. They have dedicated their talents to helping others know of additional health options for their health journey. Dr. Watt and Liz Watt are the Be Healthy Utah Natural Health and Wellness coordinators. They collaborate with many Doctors, practitioners, and educators to bring the experts to their audience. Together they speak at health conferences, are authors of the book "Healthy Gut, Healthy Mind, Healthy Life", and host a podcast called "Be Healthy Naturally". In today's episode, Dr. Watt, Liz and I discuss their upcoming Be Healthy Utah conference. They share how the conference is for everyone whether just starting your health journey or if you're looking for new tips and tricks. They teach us about how health is an inside out holistic approach and best ways to get on a health journey. Instagram Page: https://www.instagram.com/be_healthy_utah/ Facebook Page: https://www.facebook.com/behealthyusa Website: https://www.behealthyutah.com/ Podcast: https://podcasts.apple.com/us/podcast/be-healthy-naturally/id1473357062 For 10% off and free shipping at Magnesium Breakthrough Use Code JUSTINGREDIENTS at https://magbreakthrough.com/vip?v=2&gl=63d160653f5d60d86b8b4569&coupon=justingredients10&pi=karalynne
Candace Burch is a Hormone Health Educator with a Masters in Health Education and over 25 years of experience in the field. In 2017, she founded Your Hormone Balance as a one-on-one consulting practice, and is now joined by her two daughters, Ryan and Jess, who have expanded YHB's reach to women around the world (keep reading for the full story behind this family biz!). Candace's background includes working as a health editor, writer and investigative journalist in London, leading educational patient and provider initiatives for ZRT Hormone Laboratory (as their Director of Education for 12+ years), as well as spearheading "Body in Balance," a hormone testing and rebalancing weight loss program at Metabolic Research Center (a nationwide weight loss company). Jess Suchan is a board certified Holistic Health Coach who coaches her clients towards finding a life of bliss, free from fad diets, overexercising, and burnout. She believes that in order to change our habits we must address the "holistic picture" and compassionately investigate how all areas of our lives are interconnected. When she discovered the power of food and lifestyle as medicine, she decided to become a health coach via the Institute for Integrative Nutrition, and dedicated her time to helping others find that "2.0 version of themselves!" Today, she coaches clients privately and works in partnership with Your Hormone Balance. In today's episode, we discuss the four phases of the menstrual cycle and what happens with our hormones during every phase. Jess and Candace teach the best foods to eat and exercises to do during each stage in order to best support the body and its hormones. Instagram Page: https://www.instagram.com/yourhormonebalance/ https://www.instagram.com/bodyblissbyjess/ Website: http://yourhormonebalance.com/ For 10% off Bioptimizers Magnesium: Use Code JUSTINGREDIENTS at www.magbreakthrough.com/justingredients
Taylor Dukes is a wife, a mama to two boys, and a board-certified family nurse practitioner. She owns a wellness center and a functional medicine private practice in Fort Worth, TX. She approaches health from a root cause perspective. She is passionate about living a non-toxic lifestyle, using food as medicine, and helping others do the same. She has made it her mission to educate, equip and empower others on how they can live their healthiest lives. In today's episode, Taylor tells her story of how she figured out she had a brain tumor, what alternative treatments she did leading up to prepare for surgery, as well as what she is doing now post surgery and what she is doing to prevent recurrence. She teaches us about ketosis and how it plays a factor in her healing process and how it's good for the brain as well. Taylor's Instagram Page: https://www.instagram.com/taylordukeswellness/ Taylor's Website: https://taylordukeswellness.com/ Taylor's Gut Program: https://taylordukeswellness.com/gut For 15% your order at Clearly Filtered: Use Code JUSTINGREDIENTS at https://www.clearlyfiltered.com/
Juanique, Together with her late husband Tristin Roney, is the founder and creator of the Provo health clinic where they do blood chem analyses, hair analyses, transdermal Ozone therapy, hard shell medical hyperbaric oxygen therapy as well as other therapies. Their primary goal is to help people find answers to their health when mainstream medicine fails people. THey largely work with lyme disease, covid long hauler syndrome, autoimmune and cancer. They started the clinic and a top 50 podcast called the Gutsy Health podcast where they educate their audience on how to become self healing advocates. Juanique is also the founder and creator of the Gutsy Academy where people can take online classes and learn all about the science and soul of their bodies and how to heal them through diet, supplementation and conscious mindfulness. When not running Provo Health and the Gutsy academy, Juanique is either publicly sharing her heart about love after loss or how much she completely adores her children. In today's episode, Juanique and I discuss all things related to Lyme disease and autoimmune health. She talks with us about how our mindset and finding safety in our own body plays a role in healing our bodies, how covid long-haulers can be reactivating other viruses causing other symptoms like epstein-barr virus and so much more. Juanique's Instagram Page: https://www.instagram.com/gutsy_mom/ Juanique's Clinic Website: https://provohealth.com/ Juanique's Podcast: https://podcasts.apple.com/us/podcast/gutsy-health-nutrition-and-medicine/id1474697743 Juanique's Gutsy Academy: https://www.mygutsyhealth.com/ For 15% off your order at Clearly Filtered: Use Code JUSTINGREDIENTS at clearlyfiltered.com
Dr. Will Cole is a leading functional medicine expert who specializes in clinically investigating underlying factors of chronic disease and customizing a functional medicine approach for thyroid issues, autoimmune conditions, hormonal imbalances, digestive disorders, and more. He is the host of The Art of Being Well podcast and author of Ketotarian, The Inflammation Spectrum, and The New York Times bestseller Intuitive Fasting. In today's episode, Dr. Will Cole and I discuss the gut-brain connection and how it affects many areas of our overall health. Dr. Cole teaches us about physical and emotional traumas and how to find the underlying factors causing chronic disease. He shares what shameflammation is and the connection between stress and inflammation. Dr. Will Cole Instagram Page: https://www.instagram.com/drwillcole/ Dr. Will Cole Facebook Page: https://www.facebook.com/doctorwillcole/ Dr. Will Cole Twitter Page: https://twitter.com/drwillcole Dr. Will Cole TikTok Page: https://www.tiktok.com/@drwillcole?lang=en Dr. Will Cole YouTube Page: https://www.youtube.com/@DrWillCole/videos Dr. Will Cole Website: https://drwillcole.com/ Dr. Will Cole Podcast: https://podcasts.apple.com/us/podcast/the-art-of-being-well/id1539535133 For 15% off your order at Fontana Candles:
Kristen Files is a functional nutritional therapy practitioner and master restorative wellness practitioner, board certified in holistic nutrition. She is owner of Forest Creek Wellness, a boutique functional nutrition practice in Austin, Texas. Kristen is also a serious foodie, homeschooling mother of four and classical educator. She is passionate about using real food as medicine and educating other mamas to do the same. She empowers exhausted women to reconnect with and nourish their bodies, and their families, in an enjoyable, sustainable way so they can make America healthy again. In today's episode, Kristen and I discuss all things about our adrenal health. She dives into what our adrenals are, how/why it's important to support our adrenals, and how to know if you have adrenal issues, as well as muscle testing and how it affects our adrenal response. Kristen's Website: https://www.forestcreekwellness.com/ Kristen's Facebook Page: https://www.facebook.com/forestcreekwellness Kirsten's Instagram Page: https://www.instagram.com/forestcreekwellness/ Kristen's Email: kristen@forestcreekwellness For 20% off your first order at Llama Naturals: Use code JUST at llamanaturals.com
In honor of my 100th podcast episode, I am joined by my niece, Lindsey, who interviews me about my story! I go into detail about my battle with suicidal depression, and my journey to healing. We discuss my family life, how I found a practitioner, the first steps I took to healing, and advice that I would give to those who are struggling. Thank you all for supporting The Just Ingredient Podcast! Never in a million years did I think that I would ever be able to get to do this. I appreciate you more than you know! Follow along for more tips on: Instagram - @just.ingredients Facebook - Just Ingredients My Website, where I share all of my favorite products - https://justingredients.us/pages/favorites Just Ingredients Safe, Non-Toxic Food & Beauty Products - https://justingredients.us/collections/all For 10% off your order at Mett Naturals, Use the code JUSTINGREDIENTS at https://mettnaturals.com/
Elizabeth Parsons - best known on Instagram as Purely Parsons- is a follower of Christ, wife, and mother of 5. She worked as a pediatric RN in the hospital setting for 9 years before coming home full time time in 2020. She is a voice in the health and wellness space and is passionate about empowering individuals to take charge of their health and the health of their families. She loves using her experience both as a mom and nurse to educate others to pursue natural alternatives that support the body's ability to heal. Visit her website purelyparsons.com to explore all her resources and shop her 100% organic elderberry syrup kits. In today's episode, Elizabeth and I discuss all things pregnancy, natural birth and natural at home remedies for your baby. She shares with us her amazing at home, natural, water birth story and gives tips and tricks for those considering a natural birth. Elizabeth's Instagram Page: https://www.instagram.com/purelyparsons/ Elizabeth's Website: https://www.purelyparsons.com/ Get 10% off all Protein Powder and 30% off Seasonal Pumpkin Protein Powder TODAY ONLY (2/27/23) at https://justingredients.us/ Use Code JUSTINGREDIENTS for 10% off of Purelyparsons.com
Michael Ruscio is a doctor, clinical researcher, and author working fervently to reform and improve the fields of functional and integrative medicine. With his clinical and research teams, he scours existing studies to inform his ongoing clinical research, patient care, and guidance for health seekers and fellow clinicians around the world. His primary focus is digestive health and its impact on other facets of health, including energy, sleep, mood, and thyroid function and optimization. Dr. Ruscio's research has been published in peer-reviewed medical journals, and he speaks at integrative medical conferences across the globe. While actively seeing patients in his clinic, he also runs an influential blog and podcast, as well as a newsletter for functional medicine practitioners. In today's episode, Dr. Michael Ruscio and I discuss all things thyroid. Dr. Ruscio teaches that many times hypothyroidism is misdiagnosed, detailing the function of our thyroid, and the connection between the gut and the thyroid. Dr. Ruscio's Instagram Page: https://www.instagram.com/drrusciodc/ Dr. Ruscio's Blog: https://drruscio.com/?utm_medium=cpc&utm_source=google&utm_campaign=17689043037&utm_content=138952659815&utm_term=645609287722&tmid=645609287722&gclid=Cj0KCQiAxbefBhDfARIsAL4XLRqduMESAg7r8ZMXAuZ_Tojzc5-4l_8rF460lPHuvFDonb0MJiNSZgkaAud4EALw_wcB Dr. Ruscio's Podcast: https://podcasts.apple.com/us/podcast/dr-ruscio-radio-dc-health-nutrition-and-functional/id983386815 For 15% off your order at Clearly Filtered, Use the code JUSTINGREDIENTS at https://www.clearlyfiltered.com/?rfsn=4850831.504d9f5
United States