Claim Ownership
Author:
Subscribed: 0
Played: 0
Description
Los Espookys is very odd and very good comedy series about a group of horror-loving friends who start up a business that provides scary experiences for their clients. It's co-written by two of its stars, comedians Julio Torres and Ana Fabrega. The second season is currently airing on HBO so we thought it would be a good time to encore our episode about the first season.
The Patient
2022-10-0317:38
2
The Hulu series The Patient is a terrifying thriller with a simple premise. A therapist (Steve Carell) is imprisoned in the basement of a serial killer (Domhall Gleeson) who wants to stop killing and thinks therapy can help. The show unfolds over 10 intense episodes and comes from Joel Fields and Joe Weisberg, who last worked together on the The Americans.
In the grand tradition of the modern rom-com, stories about queer couples are still few and far between. Which is part of what makes the new movie Bros so special: Billy Eichner stars as a lanky intellectual who boasts a proud aversion to romance until he has a meet-cute with his polar opposite, a hyper-masculine gym rat played by Luke Macfarlane. Eichner co-wrote the movie, and Judd Apatow is a producer, so unsurprisingly, the jokes can be broad and raunchy. But there's plenty of heart here, too.
In the Disney Plus series She-Hulk: Attorney At Law, Tatiana Maslany plays Jennifer Walters, an ambitious, eager lawyer. She's also the Hulk's cousin, and accidentally acquires some of his powers after an accident. So now she has to juggle her career as a lawyer with the fact that she sometimes turns into a super-strong green giant.
Maury
2022-09-2819:41
2
For more than three decades, Maury has been a platform for flamboyant guests seeking paternity and lie detector tests for significant others. They've yelled, bawled and kicked over chairs. Now, the show's host Maury Povich is retiring and it's the end of an era for a particular brand of uber-trashy daytime TV.
Mariah Carey
2022-09-2724:35
1
Mariah Carey's landmark album Butterfly recently turned 25. The album is certified five-times platinum, and includes singles like "Honey" and "My All." The singer-songwriter and pop star seems as omnipresent and ever, thanks to a perennial holiday hit and her devoted and social media-savvy fanbase. In this encore episode, we revisit our conversation about Mariah Carey.
In the new film Don't Worry Darling Florence Pugh plays Alice, a woman living in an idyllic planned community with her husband Jack, played by Harry Styles. But strange things begin to happen that make her suspect that all is not well in the community run by Jack's mysterious employer (Chris Pine). The film is directed by Olivia Wilde and in this spoiler-packed episode, we try to chase some answers down.
In the new movie Don't Worry Darling, Florence Pugh plays a woman living with her husband (Harry Styles) in an idyllic planned community that looks like it came out of about 1955. But soon, strange things begin to happen that make her suspect that all is not well. Directed by Olivia Wilde, the film is now in theaters after some behind-the-scenes tensions that put it in the public conversation.
The new comedy See How They Run is a whodunit for people who really like a whodunit. Set behind the scenes at a 1950s production of Agatha Christie's The Mousetrap, the film is a murder mystery with a big cast that includes Sam Rockwell, Saoirse Ronan, David Oyelowo, Ruth Wilson, and Adrien Brody. And it's an entertaining send-up that takes some very meta swings at the very idea of a murder mystery.
Do Revenge
2022-09-2117:11
1
The new Netflix film Do Revenge takes its cues from a lot of other films. Some are comedies about the psychology of high school, like Clueless and Heathers. Some are more traditional tales of dark plotting, like Strangers on a Train. Directed and co-written by Jennifer Kaytin Robinson, the film stars Camila Mendes and Maya Hawke as two teenagers committed to getting back at each other's enemies.
Reboot
2022-09-2017:25
3
The new Hulu show Reboot follows a fictional behind-the-scenes attempt to create a gritty update of a TGIF-style family sitcom. The effort is led by Hannah (Rachel Bloom) who is constantly clashing with the show's original showrunner Gordon (Paul Reiser). The reunited cast is played by Judy Greer, Keegan-Michael Key, Johnny Knoxville, and Calum Worthy. Reboot was created by Modern Family alum Steven Levitan.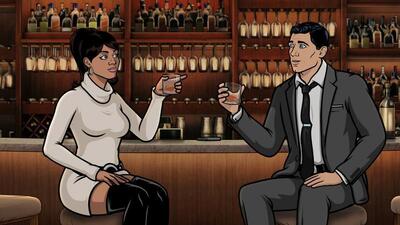 Archer
2022-09-1917:28
3
The animated comedy Archer explores the exploits of Sterling Archer (H. Jon Benjamin), the world's most dangerous spy. Now in its 13th season, it's a workplace comedy full of guns, sex, and the occasional mad scientist. Created by Adam Reed, the series airs on FXX and streams on Hulu.
The new movie The Woman King tells the story of the Agojie, a real-life group of women warriors who protected a West African kingdom in the 1820s. Directed by Gina Prince-Bythewood, the film stars Viola Davis, Thuso Mbedu, Lashana Lynch, and John Boyega – and it mixes bloody battle scenes with discussions of leadership and chosen family.
2022 Fall Guide
2022-09-1517:17
3
Today, we're telling you what new shows, movies and albums we're excited about this fall.
Serena Williams
2022-09-1423:39
2
Serena Williams recently played what might be her final professional tennis match. She's had a singular, remarkable career, including 23 singles Grand Slam titles. Along the way, she's had an enormous impact on culture inside and outside sports, and even she's started more conversations about the tennis itself and the way athletes' public lives change as they get older.
2022 Emmys Recap
2022-09-1318:14
5
At last night's Emmy Awards, The White Lotus, Ted Lasso, and Succession all picked up major awards. But there were also unexpected wins for Abbott Elementary and Squid Game. And several of those wins came with wildly charismatic acceptance speeches.
Netflix's Korean drama Squid Game was a worldwide sensation. It's a violent and artful horror series, a survival drama, and a commentary on debt and capitalism. The show earned 14 Emmy nominations, and could make history as the first-ever non-English series to win in the outstanding drama category. In this encore episode, we revisit our conversation about the first season.
The new Disney Plus movie Pinocchio is a mostly live-action remake of the 1940 Disney animated classic about a wooden boy who longs to become real, but must first undergo a series of trials and temptations in order to do so. You may already know the story, but director and co-writer Robert Zemeckis has corralled stars like Tom Hanks, Cynthia Erivo, Joseph Gordon-Levitt, and Keegan-Michael Key to give it new life.
Queen Elizabeth II
2022-09-0819:02
4
Queen Elizabeth II died today at the age of 96. She was the longest-serving British monarch, and she was undeniably a major figure in pop culture. Her image on television shows like The Crown, and in movies like The Queen, never seemed to quite capture who she was, and yet people kept trying and trying. We try to wrap our heads around the pop culture understanding of the queen, and how her legacy played out on television and in movies.
Mo
2022-09-0820:09
1
The excellent new Netflix series Mo is about a man who figures out how to get by: how to find work as someone who can't work legally, how to navigate the asylum process as a Palestinian refugee in Texas, and how to care for the people he loves. The show's star and co-creator is the standup Mo Amer, whose story dives into immigration, identity, and a family as they work to map out a secure future.
United States