Discover
SmartLess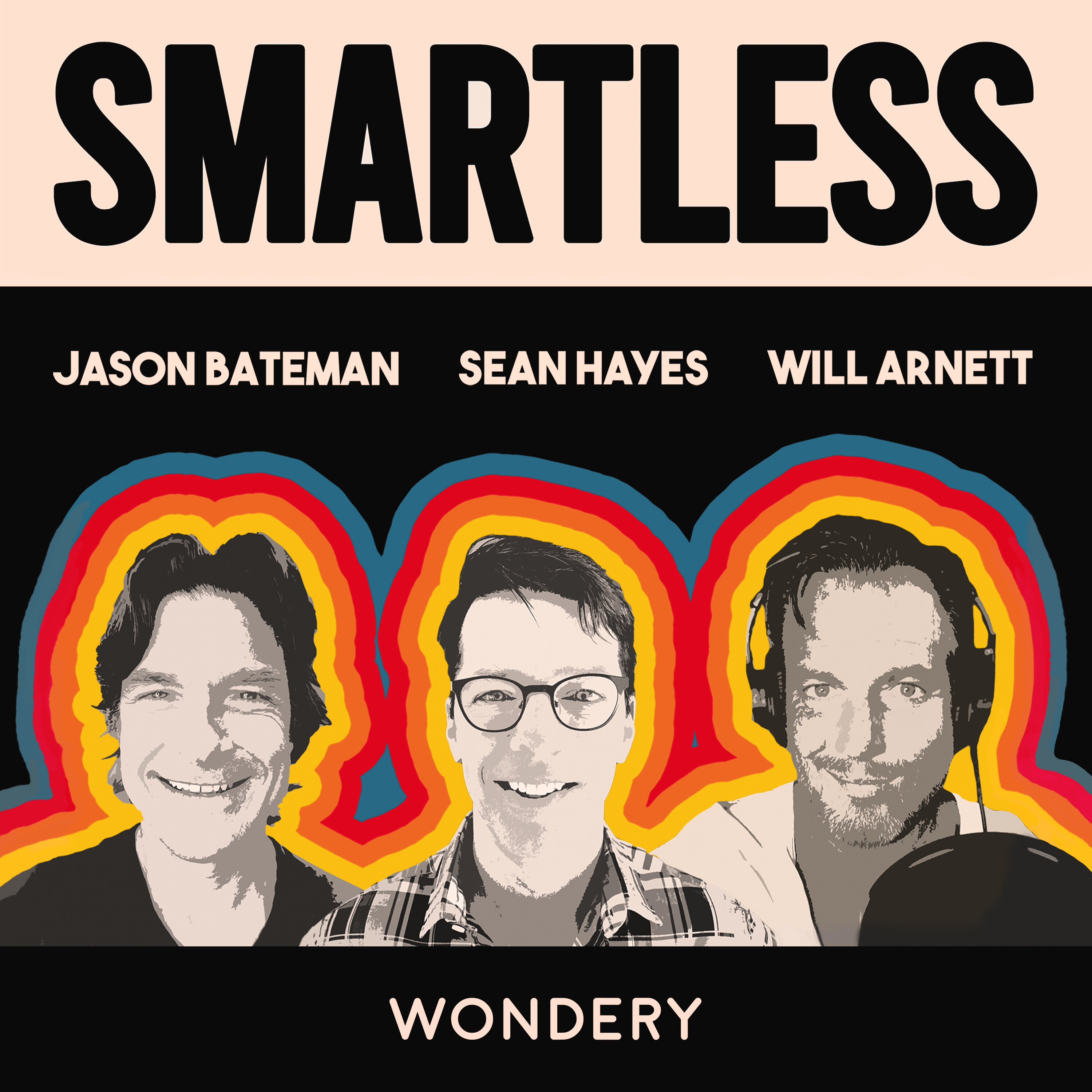 Claim Ownership
SmartLess
Author: Jason Bateman, Sean Hayes, Will Arnett
Subscribed: 243,524
Played: 6,564,549
© 2021 SmartLess LLC
Description
"SmartLess" with Jason Bateman, Sean Hayes, & Will Arnett is a podcast that connects and unites people from all walks of life to learn about shared experiences through thoughtful dialogue and organic hilarity. A nice surprise: in each episode of SmartLess, one of the hosts reveals his mystery guest to the other two. What ensues is a genuinely improvised and authentic conversation filled with laughter and newfound knowledge to feed the SmartLess mind.
New episodes on Mondays for free. Listen 1-week early and to all episodes ad-free with Wondery+ or Amazon Music with a Prime membership or Amazon Music Unlimited subscription.
Sports Explains the World unveils some of the wildest and most surprising sports stories you've never heard - And they're all true. From the teenager who wrote a Wikipedia page that got a young athlete signed to a million-dollar deal - to the Ugandan National basketball coach who was really an undercover agent for the CIA, these stories will amaze and move you at every turn. Reported by award-winning journalists across the globe, Sports Explains the World reveals the human side of athletics in provocative and unexpected ways. You'll never view sports the same way again.Enjoy Sports Explains the World on the Wondery App or wherever you get your podcasts:wondery.fm/setw_ipYou can binge the first 9 episodes of Sports Explains the World right now ad-free on Wondery Plus. Get started with your free trial at Wondery.com/plus.See Privacy Policy at https://art19.com/privacy and California Privacy Notice at https://art19.com/privacy#do-not-sell-my-info.
"Matthew McConaughey"
2023-09-1801:15:58
16
Matthew McConaughey: Take 2. We get the legend back on the pod for a second time… and this time, we actually record an episode. See Privacy Policy at https://art19.com/privacy and California Privacy Notice at https://art19.com/privacy#do-not-sell-my-info.
"Kara Swisher"
2023-09-1157:59
6
Relish this dish, an ep not to squish… espesh hackers, crackers, and phishers. Ladies and gents, it's our guest Kara Swisher.See Privacy Policy at https://art19.com/privacy and California Privacy Notice at https://art19.com/privacy#do-not-sell-my-info.
"Willem Dafoe"
2023-09-0401:13:53
15
Animal husbandry, Wisconsin, the craft of acting, and most importantly, the craft of being a good human being. Welcome to da show with Willem Dafoe.This episode was recorded on June 29, 2023.See Privacy Policy at https://art19.com/privacy and California Privacy Notice at https://art19.com/privacy#do-not-sell-my-info.
Night Nurse Jimmy Kimmel prepares our warm milk and rocks our 6-City-Tour to beddybyeeeeee, LIVE from Los Angeles. (Recorded Feb. 12, 2022)See Privacy Policy at https://art19.com/privacy and California Privacy Notice at https://art19.com/privacy#do-not-sell-my-info.
When Mike Williams vanishes on a hunting trip, the authorities suspect he was eaten by alligators but the true predators who took Mike may lurk much closer to home. The mystery of Mike's disappearance might have faded from memory, if it wasn't for one woman's tireless crusade. From Wondery, comes a new season of Over My Dead Body; a story about an obsessive love affair, a scandalous secret and a mother's battle for the truth.Listen to Over My Dead Body: Wondery.fm/_OMDB_See Privacy Policy at https://art19.com/privacy and California Privacy Notice at https://art19.com/privacy#do-not-sell-my-info.
"Jen Psaki"
2023-08-2857:13
9
Press room's graceful guide, Jen Psaki's words, truth and tide, Wisdom flows inside. Welcome to an all-new-HaikuLess.This episode was recorded on July 11, 2023.See Privacy Policy at https://art19.com/privacy and California Privacy Notice at https://art19.com/privacy#do-not-sell-my-info.
We Hart LA… LIVE with Kevin Hart. (Recorded Feb. 12, 2022)Listen to "SmartLess Live" episodes four weeks early and ad-free on Wondery+See Privacy Policy at https://art19.com/privacy and California Privacy Notice at https://art19.com/privacy#do-not-sell-my-info.
"Rose Byrne"
2023-08-2101:03:35
12
Stop and smell the Roses, but don't get Byrne't by the molten lava of sheer podcast excellence - we've got Rose Byrne on the horn this week! Et voilà! It's an all-new SmartLess. This episode was recorded on July 7, 2023.See Privacy Policy at https://art19.com/privacy and California Privacy Notice at https://art19.com/privacy#do-not-sell-my-info.
This week Matt-is-on from Madison… Matt Damon, that is (with a quick visit from Tracey) comin' atcha LIVE from Wisconsin. (Recorded Feb. 09, 2022)Listen to "SmartLess Live" episodes four weeks early and ad-free on Wondery+See Privacy Policy at https://art19.com/privacy and California Privacy Notice at https://art19.com/privacy#do-not-sell-my-info.
"Jessica Chastain"
2023-08-1401:03:30
12
We're serving up poached pears with sweet potato ice cream as we slow-roast with the great Jessica Chastain. So kick off your boots, sit back, and relax for some light cussing, failed PE, and of course, chunky theater stories… on an all-new episode of "Fall Cooking with Jessie-Boo."This episode was recorded on June 13, 2023.See Privacy Policy at https://art19.com/privacy and California Privacy Notice at https://art19.com/privacy#do-not-sell-my-info.
Mark Cuban sends us to business school, LIVE in Chicago.(Recorded on Feb 08, 2022)Listen to "SmartLess Live" episodes four weeks early and ad-free on Wondery+See Privacy Policy at https://art19.com/privacy and California Privacy Notice at https://art19.com/privacy#do-not-sell-my-info.
"Paul Giamatti"
2023-08-0701:08:33
9
All's well that end-swell with the illustrious Paul Giamatti. Moth protection, boxing tips, the Hummus Diet, and everything in-between (colonoscopies need not apply)… we all get naughty with Mr. Giamatti. Stay tuned, Listener: it's another honeymoon with your sweetie SmartLess.This episode was recorded on June 05, 2023.See Privacy Policy at https://art19.com/privacy and California Privacy Notice at https://art19.com/privacy#do-not-sell-my-info.
It's hard to find a descriptor… for the delights of Andy Richter.(Recorded on February 08, 2022)Listen to "SmartLess Live" episodes four weeks early and ad-free on Wondery+See Privacy Policy at https://art19.com/privacy and California Privacy Notice at https://art19.com/privacy#do-not-sell-my-info.
"Greta Gerwig"
2023-07-3101:00:35
16
Greta Gerwig joins us from atop a Fire Station on this scorching summer morn. We chat in-depth about the importance of le cinéma: 'un-fussy filmmaking,' Hitchcock, even the genesis of the word "movie" itself. So grab your taffy and have a laughy; it's SmartLess.This episode was recorded on June 20, 2023.Please support us by supporting our sponsors.See Privacy Policy at https://art19.com/privacy and California Privacy Notice at https://art19.com/privacy#do-not-sell-my-info.
We sat down in Brooklyn with the lovely Alexandria Ocasio-Cortez to talk Harry Potter, edible gummies, and Sean For President.(Recorded on Feb 05, 2022)Listen to "SmartLess Live" episodes four weeks early and ad-free on Wondery+See Privacy Policy at https://art19.com/privacy and California Privacy Notice at https://art19.com/privacy#do-not-sell-my-info.
"Steven Soderbergh"
2023-07-2401:03:37
9
A shot, a line, a transition, an idea, a font, anything. It's Bolivian spirit dealer and 'the Taylor Swift of Cinema,' a.k.a. Steven Soderbergh… on an all-new SmartLess.This episode was recorded on May 30th, 2023.Please support us by supporting our sponsors.See Privacy Policy at https://art19.com/privacy and California Privacy Notice at https://art19.com/privacy#do-not-sell-my-info.
We went to Brooklyn and sat down with both David Letterman and his sidekick (The Beard) for a hell of a chat n' giggle.(Recorded on Feb 05, 2022)Listen to "SmartLess Live" episodes four weeks early and ad-free on Wondery+See Privacy Policy at https://art19.com/privacy and California Privacy Notice at https://art19.com/privacy#do-not-sell-my-info.
"Danny McBride"
2023-07-1701:20:00
23
This week we've got the Mayor of Laughland coming to us live from Charleston: Mr. Danny McBride. We discuss vacation climaxes, filming still photos, flying trampolines, and of course, Vanderpump Rules. So put a foot-fist in your mouth and watch out for 500 Michael Myers… it's an all-new SmartLess. Also, former NBA player Rex Chapman joins the guys to talk about his new SmartLess Media podcast, "Owned," about the wild world of professional sports owners. https://wondery.com/links/owned-with-rex-chapman/This episode was recorded on May 25th, 2023.Please support us by supporting our sponsors.Disclaimer: Must be 21+ and present in select states. First online real money wager only. $10 first deposit required. Bonus issued as nonwithdrawable bonus bets that expires 14 days after receipt. Restrictions apply. See terms at sportsbook.fanduel.com. FanDuel is offering online sports wagering in Kansas under an agreement with Kansas Star Casino, LLC. Gambling Problem? Call 1-800-GAMBLER or visit FanDuel.com/RG in Colorado, Iowa, Michigan, New Jersey, Ohio, Pennsylvania, Illinois, Tennessee, and Virginia. Call 1-800-NEXT-STEP or text NEXTSTEP to 53342 in Arizona, 1-888-789-7777 or visit ccpg.org/chat in Connecticut, 1-800-9-WITH-IT in Indiana, 1-800-522-4700 or visit ksgamblinghelp.com in Kansas, 1-877-770-STOP in Louisiana, visit mdgamblinghelp.org in Maryland, visit 1800gambler.net in West Virginia, or call 1-800-522-4700 in Wyoming. Hope is here. Visit GamblingHelpLineMA.org or call (800) 327-5050 for 24/7 support in Massachusetts or call 1-877-8HOPE-NY or text HOPENY in New York.See Privacy Policy at https://art19.com/privacy and California Privacy Notice at https://art19.com/privacy#do-not-sell-my-info.
Find out more about mechanical cats doing Cats on Broadway… with our esteemed surprise guest: physicist, cosmologist, and machine-learning researcher Max Tegmark, LIVE in Boston.(Recorded on February 04, 2022)Listen to "SmartLess Live" episodes four weeks early and ad-free on Wondery+See Privacy Policy at https://art19.com/privacy and California Privacy Notice at https://art19.com/privacy#do-not-sell-my-info.
United States