Discover
TED Radio Hour
Claim Ownership
Author: NPR
Subscribed: 1,107,744
Played: 11,093,194
© Copyright 2012-2021 NPR and Ted Conferences, LLC - For Personal Use Only
Description
Exploring the biggest questions of our time with the help of the world's greatest thinkers. Host Manoush Zomorodi inspires us to learn more about the world, our communities, and most importantly, ourselves.

Get more brainy miscellany with TED Radio Hour+. Your subscription supports the show and unlocks a sponsor-free feed. Learn more at plus.npr.org/ted
For millennia, humans have debated the mind, body, spirit connection. But today, the phrase sounds trite — a hallmark of the #selfcare industry. Over the next three episodes, TED speakers will investigate fresh perspectives on how we think, move, and feel. This hour: the mind. Guests include animal behaviorist and autism activist Temple Grandin, podcast host and meditation advocate Dan Harris, neurointerventionist and entrepreneur Tom Oxley and poet Sarah Kay Starting Wednesday, March 22, TED Radio Hour Plus subscribers will get access to bonus episodes, with more ideas from TED speakers and a behind the scenes look with our producers. A Plus subscription also lets you listen to regular episodes (like this one!) without ads. Sign-up at plus.npr.org/ted.
Original broadcast date: March 22, 2022. In the last century, human life expectancy has doubled. This hour, we talk with writer Steven Johnson on the many breakthroughs that made this possible — and where we go from here.
Humor Us
2023-03-0351:21
6
Original broadcast date: June 3, 2022. Humor can lighten the mood. But it can also provoke, cajole and inspire. This hour, TED speakers share how we can wield humor as a tool across all aspects of our lives. Guests include comedian Marcia Belsky, computer scientist Vinith Misra, behavioral scientist Jennifer Aaker, corporate strategist Naomi Bagdonas and science comedian Kasha Patel.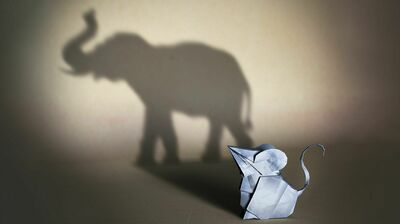 Small But Mighty
2023-02-2451:34
4
You don't need to be big and boisterous to pack a punch. This hour, TED speakers explore the surprising strength of all things miniscule and fleeting.
Original broadcast date: November 12, 2021. We hear calls for systemic change, but what does that look like? This hour, TED speakers share stories of taking on institutions — from schools, to medicine, to policing — so they work for everyone. Guests include economist Emily Oster, lawyer Priti Krishtel and social psychologist Phillip Atiba Goff.
New Family Values
2023-02-1051:31
11
There are an infinite number of ways to be a happy family, and just as many ways to be an unhappy one, says Andrew Solomon. This hour, the author and psychologist discusses modern family dynamics — and how families can find joy even when life gets complicated.
Original broadcast date: May 6, 2022. MLK Jr., Malcolm X and James Baldwin are household names, but what about their mothers? This hour, author Anna Malaika Tubbs explores how these three women shaped American history.
For All Eternity
2023-01-2751:18
9
Information feels more accessible than ever, but the ways we store data are surprisingly fragile. Can we save anything forever? This hour, TED speakers explore preserving our past, present and future. Guests include artist CM Ralph, digital librarian Brewster Kahle, molecular biologist Dina Zielinski and archaeologist Chris Fisher.
Take Care
2023-01-2052:53
15
Original broadcast date: April 8, 2022. Giving and receiving care—it's a natural part of life. But how do we offer the best possible support for our loved ones? This hour, TED speakers share ideas on reimagining caregiving.
Stay Resolved
2023-01-1351:41
19
Resolutions are easy to make, even easier to break. But what if a story or idea can motivate us in a whole new way? This hour, TED speakers offer different perspectives on our most common resolutions. Guests include neuroscientists Wendy Suzuki and Sandra Aamodt, science journalist Catherine Price, behavioral scientist Wendy De La Rosa, and authors Pico Iyer and A.J. Jacobs.
Original broadcast date: Friday, May 20, 2022. "Reduce, reuse, recycle." We've heard that for decades - but does it work? This hour, TED speakers reimagine the well-known slogan and reconsider how we think about what we consume and throw away. Guests include right-to-repair advocate Gay Gordon-Byrne, materials scientist Andrew Dent, technologist Jamie Beard and animal scientist Ermias Kebreab.
Original broadcast date: June 17, 2022. Musician Jacob Collier is known for his electrifying performances and thoughtful views on art and humanity. This hour, Jacob joins us for a conversation on the sparks that fuel his creative process.
As a special bonus, we're sharing an episode from a new TED podcast, ReThinking with Adam Grant. Adam joins neuroscientist Chantel Prat, who dispels what you thought you knew about your brain.
Our brains are magnificently complex - and highly fallible. This hour, neuroscientist and novelist Lisa Genova explains how to keep our brains healthy and what to do when something goes wrong.
Original broadcast date: February 19, 2021. When A.J. Jacobs set out to thank everyone who made his morning cup of coffee, he realized the chain of thank-you's was endless. This hour, Jacobs shares ideas on gratitude—and how to make it count.
We think our faces are our own. But technology can use them to identify, influence and mimic us. This week, TED speakers explore the promise and peril of turning the human face into a digital tool. Guests include super recognizer Yenny Seo, Bloomberg columnist Parmy Olson, visual researcher Mike Seymour and investigative journalist Alison Killing.
Original broadcast date: June 25, 2021. For centuries, humans have relied on the oceans for resources and food... but even the deepest sea has its limits. This hour, TED speakers discuss how we can save our seas to save our planet.
Original broadcast date: June 11, 2021. Oceans cover nearly 75% of the Earth. While they seem vast and frightening, they're also enchanting and whimsical. This hour, TED speakers dive into stories of connection — and even love — in the sea. Guests include adventurer Catherine Mohr, marine biologists Marah Hardt and Ayana Elizabeth Johnson and venom scientist Mandë Holford.
Late Bloomers
2022-11-1851:44
19
Many of us feel pressure to hit big life milestones on a timeline. But what if age is an asset, not a liability? This hour, TED speakers examine the benefits and drawbacks of being a late bloomer. Guests include writer Doree Shafrir, network scientist Albert-László Barabási, anti-ageism activist Ashton Applewhite and retired educator Riley Moynes. Listeners also share stories.
Original broadcast date: March 5, 2021. In each stage of life, our brains morph and change. This hour, TED speakers explore pivotal chapters where the brain can either flourish or decline – and what control we might have over brain health. Guests include neuroscientists Kimberly Noble, Adriana Galván, Sandrine Thuret, and Lisa Mosconi.
United States