Discover
The Bulwark Podcast
Claim Ownership
Author: The Bulwark Podcast
Subscribed: 8,549
Played: 1,040,558
Description
Charlie Sykes and guests discuss the latest news from inside Washington and around the world. No shouting, grandstanding, or sloganeering. Truth over tribalism. Principles over partisanship. Bulwark+ members can get a totally ad-free version of the show delivered right to their favorite podcast player. Join now
Is the Almighty, who made heaven and earth, also biting his nails over next year's election? Tim Alberta joins Charlie Sykes to discuss the evangelicals who worship America, a 500-year moment for Christianity, and the organized crime syndicate Jerry Falwell built. Christmas comes early on the weekend pod. show notes: https://www.harpercollins.com/products/the-kingdom-the-power-and-the-glory-tim-alberta?variant=41012408516642
And now no one is afraid of Mike Johnson—so he won't be able to lead either. Plus, a Christie-Haley alliance is starting to materialize, Marjorie Taylor Greene now has no sugar daddy, and Liz Cheney reminds us that we have one job. A.B. Stoddard joins Charlie Sykes. show notes: https://www.theatlantic.com/magazine/archive/2024/01/donald-trump-second-term-policies/676176/ https://www.axios.com/2023/12/07/trump-loyalty-cabinet-2025-carlson-miller-bannon https://www.washingtonpost.com/opinions/2023/12/05/donald-trump-authoritarian-rule-second-term-maga/ 
Donald Trump will never be the lesser of two evils. We must unite, look beyond partisanship, and vote in ways that will maintain the republic. Liz Cheney joins Charlie Sykes on today's podcast. show notes: https://www.hachettebookgroup.com/titles/liz-cheney/oath-and-honor/9780316572064/?lens=little-brown 
The smoking gun turns out to be a dud, but James Comer and the Republicans move ahead on their evidence-free Biden impeachment inquiry. The Washington Post's Philip Bump joins Charlie Sykes on today's podcast.
The progressives both-sidesing the sexual violence against Israeli women and girls has only added to the horrors of the Israel-Hamas conflict. Plus, Trump won't take 'No' for an answer, and Lindsey Graham capitulates to the anti-Ukraine isolationists. Will Saletan joins Charlie Sykes for Charlie and Will Monday.
Trump wants to weaponize the office of the presidency, and who would stop him? We have a built-in weakness of basing our constitutional norms on the honor system. Plus, the Democrats have a Hamas problem. Adam Kinzinger joins Charlie Sykes for the weekend pod.
From Elon to Trump to Kanye, public decompensation is a part of our culture now. Plus, Georgia's inadequate investigation of the potential Trump-related conspiracy to copy election software, and the uncertainty of a verdict before Election Day. Ben Wittes and Anna Bower join Charlie Sykes for The Trump Trials. show notes: https://www.lawfaremedia.org/article/what-the-gbi-missed-in-coffee-county
This is the era of political humiliation: From Kevin nursing Trump back to health after Jan 6, to dominatrixes who get paid to mock your political views. Plus, the Koch network is doing it backwards. Michael Steele joins Charlie Sykes.
Don't underestimate the power of the belief that Trump is part of a prophecy for many evangelicals. And don't underestimate the general lack of knowledge about Trump's corruption. Plus, putting pressure only on Israel does Hamas' work for them. David French joins Charlie Sykes.
Trump wants you to know that he remembers who the president is. Plus, the asymmetry in the hostage-prisoner exchanges, linking reform of asylum rules to aid for Ukraine and Israel, and is Christie helping Haley? Will Saletan is back with Charlie Sykes for Charlie and Will Monday.
Hamas triggered the Gaza war—and signed the death warrants of thousands of Palestinians—when it purposefully targeted civilians on 10/7. Israeli journalist Amir Tibon joins guest host Mona Charen to discuss how his family survived the terror attack, Netanyahu's failures, Biden's support, and the bad options for post-war rule in Gaza.
A disconnect from reality has descended on the US: Republicans practice fantasy politics day and night, Trump is out to paint Biden as corrupt, and Americans think the economy is in the crapper. Plus, family love and loss, and gratitude for a good ending. JVL joins guest host A.B. Stoddard.
New Hampshire voters are famously contrarian, and the non-MAGA set is showing up for Haley and Christie ahead of the first-in-the-nation primary. Plus, a Rosalynn Carter appreciation, and the 'Lord of the Flies' vibe in the House. Karen Tumulty joins Charlie Sykes from New Hampshire. show notes: https://www.washingtonpost.com/opinions/2023/11/20/rosalynn-carter-place-in-history/ 
We are in an age where internet randos are beating out reality. Plus, Haley's abortion dance, the cowardice of DeSantis, another Biden panic poll, and the Steve Bannon wing feels like it has the wind at their backs. Will Saletan is back with Charlie Sykes for Charlie and Will Monday.
Fox launched the Big Lie based on a random email from a woman in Minnesota who heard voices in the supermarket. And its viewers wanted to be told that Trump was robbed of reelection. Brian Stelter has the receipts, and joins Charlie Sykes for our live show in Washington, D.C. show notes: https://www.simonandschuster.com/books/Network-of-Lies/Brian-Stelter/9781668046906
One person we can be certain will not be called as a witness in Georgia: nutty Sidney Powell. Plus, the unsettled Trump trial calendar, one way we may get to 'hear' Chutkan's trial, and the missing funding for Ukraine. Ben Wittes joins Charlie Sykes for The Trump Trials.
We may have averted a government shutdown for the moment, but the new speaker of the House believes dinosaurs were on Noah's Ark. Pete Wehner joins Charlie Sykes for a deep dive on Mike Johnson. Plus, the closing of the American mind on the right. show notes: https://www.theatlantic.com/ideas/archive/2023/10/polite-zealotry-mike-johnson/675845/ https://www.nytimes.com/2023/11/06/opinion/trump-allan-bloom-republicans.html 
Deep down, Trump knows the truth, and is running again to stay out jail—just like authoritarian leaders do in other countries. Plus, the new non-MAGA initiative to protect the rule of law. George Conway joins Charlie Sykes today.
Very powerful and strong Donald Trump is promising his supporters the freedom to go after the people they don't like if he returns to the White House. Plus, pathological lying fascists, Hamas tunnels, and the day after in Gaza. Will Saletan joins Charlie Sykes for Charlie and Will Monday.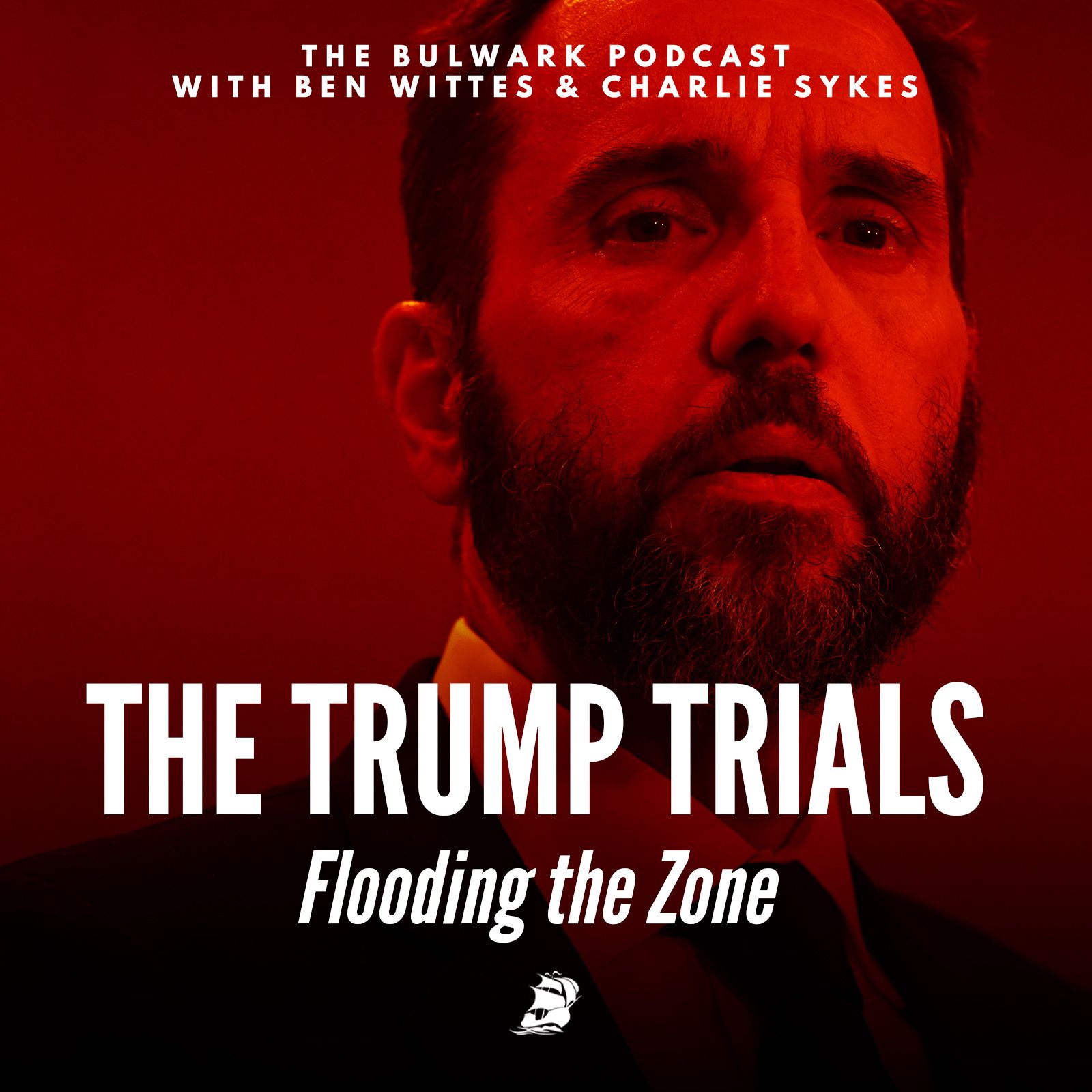 Flooding the Zone
2023-11-1047:59
1
Jack Smith's office filed an epic motion this week laying out the central role of Trump's lies in the election subversion case. Meanwhile, the ex-POTUS will never just shut-up. Plus, the proper way to dispose of dog poop bags. Yes, you read that right. Ben Wittes joins Charlie Sykes for The Trump Trials. show notes Ben's piece from 2016: https://www.lawfaremedia.org/article/trump-and-powers-american-presidency-part-i 
United States