Discover
The Changelog: Software Development, Open Source
What if your favorite conference's hallway track continued year round? That's the vibe we're trying to capture with Changelog & Friends, a new Friday talk show from your friends at Changelog. In this intro episode, Adam & Jerod talk all about our new MWF plan for The Changelog , discuss what this Friends flavor is all about, and have a lot of fun along the way.
This week on The Changelog we're taking you to the hallway track of The Linux Foundation's Open Source Summit North America 2023 in Vancouver, Canada. Today's anthology episode features: Beyang Liu (Co-founder and CTO at Sourcegraph), Denny Lee (Developer Advocate at Databricks), and Stella Biderman (Executive Director and Head of Research at EleutherAI). Special thanks to our friends at GitHub for sponsoring us to attend this conference as part of Maintainer Month.
Will McGugan's Trogon auto-generates friendly TUIs for your CLI apps, Stability AI's official open source variant of DreamStudio, John Calhoun writes about life after 26 years programming at Apple, Google's news TLDs could be a boon to scammers & Pablo Meier documents a way to discuss programming languages.
This week Sarah Drasner joins us to talk about her book Engineering Management for the Rest of Us and her experience leading engineering at Zillow, Microsoft, Netlify, and now Google.
Thunderbird is thriving on small donations, Syncthing is a super-cool continuous file sync program, LLMs are so hot right now and they're making vectors hot by proxy & MDN defines a Baseline for stable web features.
This week we're celebrating Maintainer Month along with our friends at GitHub. Open source runs the world, but who runs open source? Maintainers. Open source maintainers are behind the software we use everyday, but they don't always have the community or support they need. That's why we're celebrating open source maintainers during the month of May. Today's conversation features Alyssa Wright (Bloomberg), Chad Whitacre (Sentry), and Duane O'Brien (Creator of the FOSS Contributor Fund and framework). We get into all the details, the why, the hows, and the struggles involved for companies to support open source.
Jeremy Howard thinks Mojo might be the biggest programming language advance in decades, Amelia Wattenberger is not impressed by AI chatbots, a leaked Google memo admits big tech has no AI moats & Werner Vogels reminds us that monoliths are not dinosaurs.
José Valim joins Jerod to talk all about what's new in Livebook – the Elixir-based interactive code notebook he's been working on the last few years. José made a big bet when he decided to bring machine learning to Elixir. That bet is now paying off with amazing new capabilities such as building and deploying a Whisper-based chat app to Hugging Face in just 15 minutes. José demoed that and much more during Livebook's first-ever launch week. Let's get into it.
Hyperswitch is like the adapter pattern for payments, Austin Henley writes about the future of programming by summarizing recent research papers, Thoughtworks published their 28th volume of their Tech Radar, the team at General Products reminds devs to scan our technical writing for words such as "easy", "painless", "straightforward", "trivial", "simple" and "just" & we finish with a lightning round of cool tools.
This week Adam talks with Andy Klein from Backblaze about hard drive reliability at scale.
The dataset wars are heating up, Bark is a transformer-based text-to-audio model that can generate highly realistic, multilingual speech as well as other audio, Kent Beck needs to recalibrate after using ChatGPT, the team behind Stable Diffusion release a new open source language model & Mitchel Hashimoto weighs in on prompt engineering.
This week we're joined by Zach Latta, the Founder of Hack Club. At 16, Zach tested out of high school and moved to SF to join Yo as their first engineer. After playing a key role at Yo, he founded Hack Club to help teen hackers start coding clubs around the world. Today, teen hackers can meet IRL, online, at a hackathon, or leverage Hack Club Bank a fiscal sponsor to create their own organization. Hack Club is the program Zach wished he had in high school.
Kara Deloss announces GitHub Accelerator's 2023 cohort, Databricks releases the first open source, instruction-following LLM, fine-tuned on a human-generated instruction dataset licensed for research and commercial use, Mihai Parparita writes how he improved Tailscale thanks to Apple's open source & Neal Fennimore asks and answers the question: Passkeys: what the heck and why?!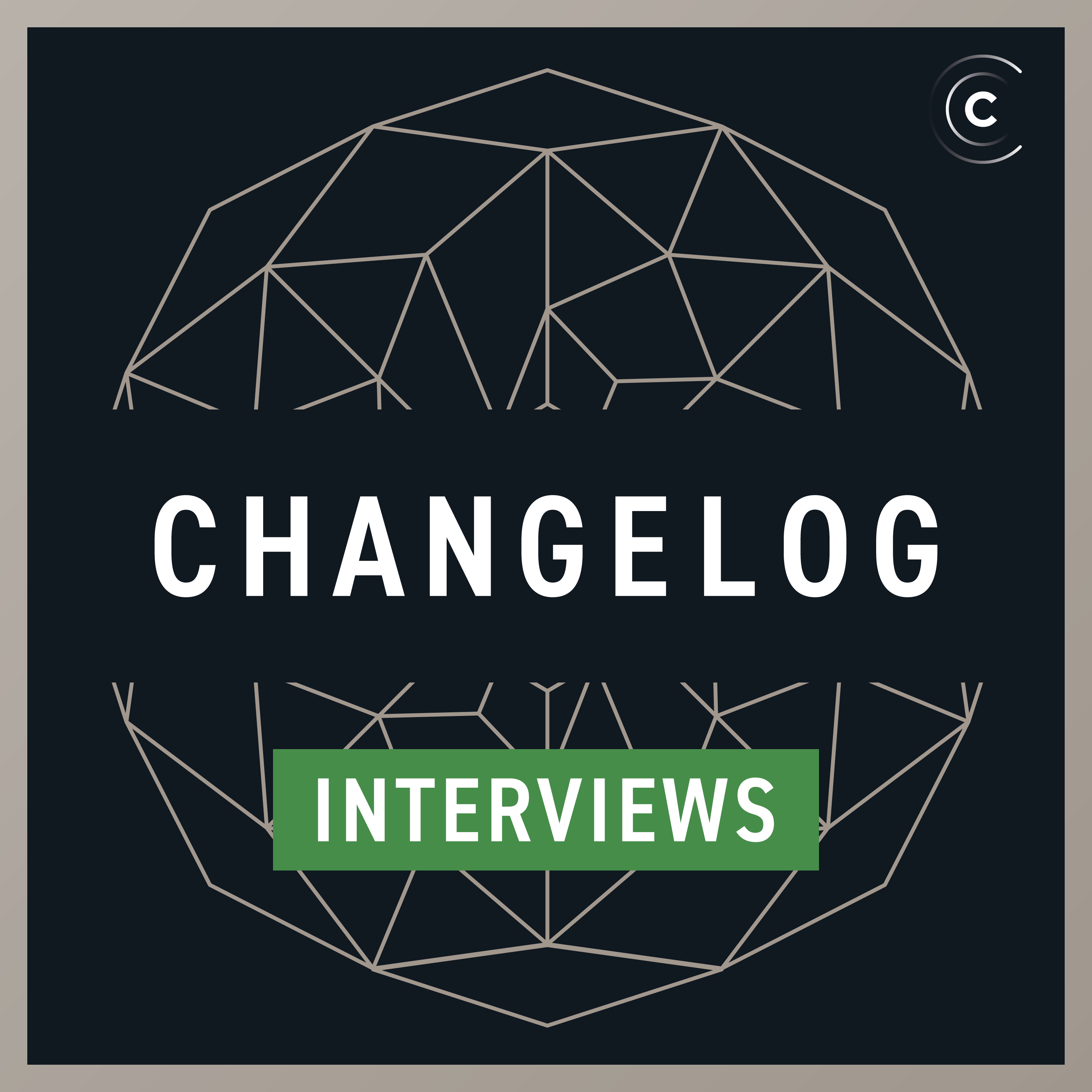 Examining capitalism's chokepoints
2023-04-1401:27:30
2
This week we're talking with Cory Doctorow (this episode contains explicit language) about his newest book Chokepoint Capitalism, which he co-autored with Rebecca Giblin. Chokepoint Capitalism is about how big tech and big content have captured creative labor markets and the ways we can win them back. We talk about chokepoints creating chickenized reverse-centaurs, paying for your robot boss (think Uber, Doordash, Amazon Drivers), the chickenization that's climbing the priviledge gradient from the most blue collar workers to the middle-class. There are chokepoints in open source, AI generative art, interoperability, music, film, and media. To quote Cory, "We're all fighting the same fight."
Ken Thompson's 75-year-project is a jukebox for the ages, Tabby is a self-hosted AI coding assistant, Codeberg is a collaboration platform and Git hosting for open source software, content and projects, TheSequence explains The LLama Effect & Paul Orlando writes about Ghosts, Guilds and Generative AI.
This week we're talking about LLMs with Simon Willison. We can not avoid this topic. Last time it was Stable Diffusion breaking the internet. This time it's LLMs breaking the internet. Large Language Models, ChatGPT, Bard, Claude, Bing, GitHub Copilot X, Cody…we cover it all.
Twitter publishes (some of) its recommendation algorithm, Toran Bruce Richards puts GPT-4 on autopilot, Simon Willison shares a good way for us to think about LLMs, Eric Elliot creates a powerful pseudocode programming language for LLMs & I define and demystify the term "stochastic parrot".
After years of working for Google on the Go Team, Filippo Valsorda quit last year to experiment with more sustainable paths for open source maintainers. Good news, it worked! Filippo is now a full-time open source maintainer and he joins Jerod on this episode to tell everyone exactly how he's making the equivalent to his total compensation package at Google in open source.
GitHub announces Copilot X, Mckay Wrigley created an open source ChatGPT UI buit with Next.js, TypeScripe & Tailwind CSS, OpenAI is also launching a ChatGPT plugin initiative, Brad Woods writes about juice in software development, Logto is an open source alternative to Auth0, Basaran is an open source alternative to the OpenAI text completion API & llama-cli is a straightforward Go CLI interface for llama.cpp.
This week we're talking with Georgi Gerganov about his work on Whisper.cpp and llama.cpp. Georgi first crossed our radar with whisper.cpp, his port of OpenAI's Whisper model in C and C++. Whisper is a speech recognition model enabling audio transcription and translation. Something we're paying close attention to here at Changelog, for obvious reasons. Between the invite and the show's recording, he had a new hit project on his hands: llama.cpp. This is a port of Facebook's LLaMA model in C and C++. Whisper.cpp made a splash, but llama.cpp is growing in GitHub stars faster than Stable Diffusion did, which was a rocket ship itself.
United States