Stravinsky's The Rake's Progress: I Walk the Line
Update: 2021-05-05
2
Description
Almost three hundred years ago, the English artist William Hogarth created a series of paintings called A Rake's Progress, which tell the tragic story of a man whose life spirals out of control after inheriting an unexpected fortune. He leaves behind a fiancée, and it is her story of devotion that reverberates through Igor Stravinsky's opera The Rake's Progress and the aria "No Word from Tom." 
In this episode, you'll visit with Hogarth's paintings, hear how Stravinsky captured the undying loyalty of the forgotten lover and get an inside look at how unexpected fortune and fame upended the family of Vivian Liberto and Johnny Cash. Yes, that Johnny Cash. And, yes, in this podcast about Igor Stravinsky. 
And here's the best part: the incomparable Dawn Upshaw will sing it for you from the stage of the Metropolitan Opera.
The Guests:
Soprano Dawn Upshaw has performed The Rake's Progress many times and says that some of her happiest moments on an opera stage were when she was singing the role of the devoted fiancée, Anne Trulove.
Tara Cash is the youngest daughter of Johnny Cash and his first wife, Vivian Liberto. When she was growing up, everyone always wanted to hear about her father's life. Now, she welcomes the opportunity to share her mother's side of the story.  
Joanna Tinworth is Curator (Collections) at Sir John Soane's Museum in London, where the original paintings, A Rake's Progress by William Hogarth, have resided for over 200 years. Hogarth's paintings are among the museum's most popular exhibits.
Michael Bragg is the Music Planning Associate and Librarian at San Francisco Opera. He gives lectures and talks about opera around the Bay area, and he loves Stravinsky because of the composer's unique approach to blending old and new styles of music. 
Below is the first painting in Hogarth's series A Rake's Progress, entitled "The Heir." You can see the complete set of paintings here, courtesy of Sir John Soane's Museum.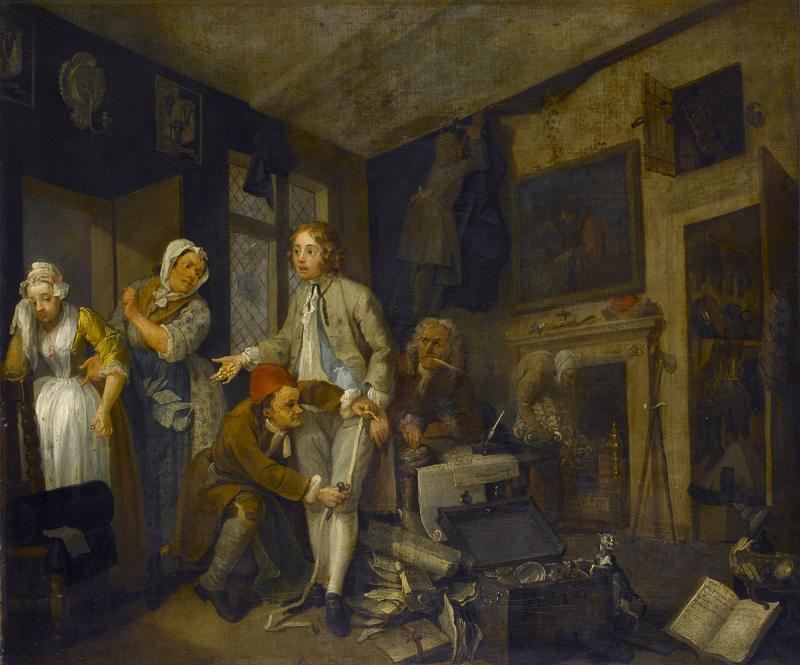 William Hogarth, "The Heir," from "A Rake's Progress" series, the inspiration for Stravinsky's opera.
(Photo: Sir John Soane's Museum, London)